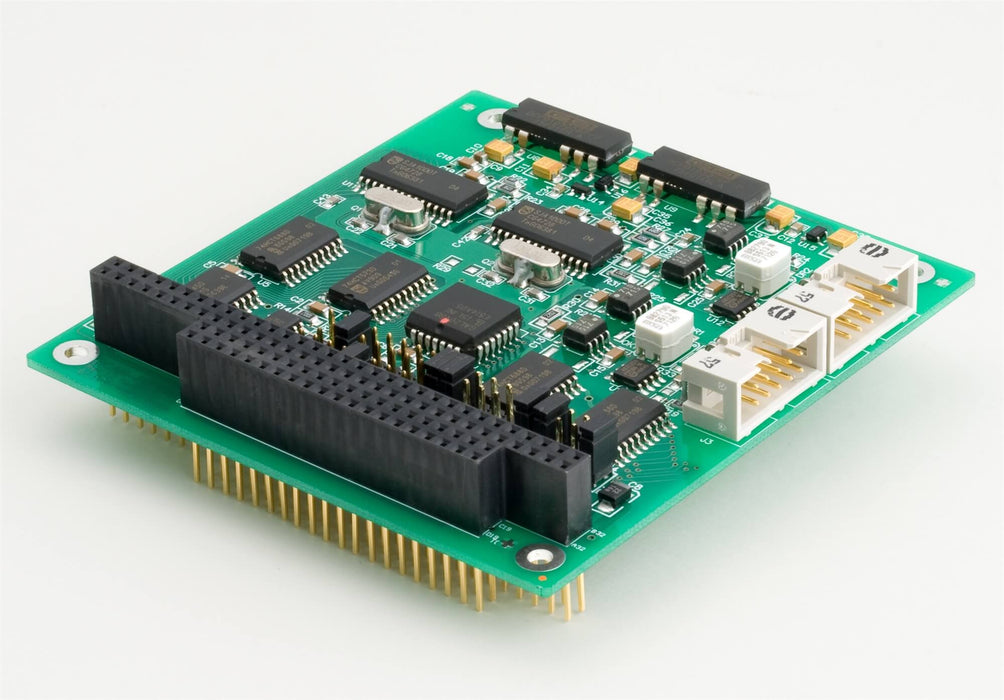 PCAN-PC/104 Adapter (1ch/2ch)
SKU #:
IPEH-002054, IPEH-002055
Save

Liquid error (snippets/product-badge line 47): Computation results in '-Infinity'

%
The PCAN-PC/104 is a compact PC/104-CAN slot which allows the networking of two CAN buses to a PC/104 system. Multiple PCAN-PC/104 cards can easily be operated using interrupt sharing. CAN connectivity is enabled by two separate DB-9 connectors, whose pin assignment conforms to CiA specification DS 102-1. The PCAN-PC/104 package includes device drivers for Windows® 10/8/7/Vista/XP (32Bit), the PCAN-Basic API, and the PCAN-View CAN monitor software. Linux drivers are also available.
Fully PC/104 compatible
Multiple PC/104 cards can be operated in parallel (interrupt sharing)
14 port and 8 interrupt addresses are available for configuration using jumpers
Transfer rates up to 1 Mbit/s
Compliant with CAN specifications 2.0A (11-bit ID) and 2.0B (29-bit ID)
Connection to CAN bus through D-Sub slot array, 9-pin (in accordance with CiA® 102)
NXP SJA1000 CAN controller, 16 MHz clock frequency
82C251 CAN transceiver
Hardware can be reset via software
5-Volts supply to the CAN connection can be connected through a solder jumper, e.g. for external transceiver
Dual-channel version available
Interface(s)
PC: PC/104 ISA bus with 8 MHz clock rate, 16 bit bus width
CAN: ISO 11898-2, complies with CiA-recommendation DS 102
Power Consumption
1 channel max. 150 mA
2 channel max 170 mA
Baud Rate
CAN: max. 1 Mbit/s
Pinout
C.I.A. DS-102 (CAN_H = 7, CAN_L = 2, CAN_GND = 3)
Transceiver
CAN: max. 2 Philips PCA82C251
Dimensions
96 x 91 x 24 mm
Software
Driver: Windows® 10, 8.1, 7 and Linux (32/64-bit)
Tools: PCAN-View for Windows®
Controller(s)
CAN: max. 2 Philips SJA1000T
I/O & IRQ
0x200-0x3ff IRQ3-IRQ5, IRQ7, IRQ10-IRQ12, IRQ15
Specification
CAN: 2.0A (Standard format) and 2.0B (extended format)
Operating temperature
-40°C to +85°C
Storage temperature
Temperature: -40°C to +125°C
Relative humidity
15% to 90% (non-condensing)
EMC directives
EN 50081-1:1992
EN 50082-1:1997
EN 50081-2.1993
EN 61000-6-2:1999
EC directive 89/336/EEC
Certifications
CE, RoHS
PCAN-PC/104 package
Contains device drivers for Windows® 7/Vista/XP (32-bit), the PCAN-Basic API, the CAN monitor PCAN-View, and documentation (German and English)
PCAN-Linux device driver
PEAK CAN interfaces from Kernel 2.4 and higher.