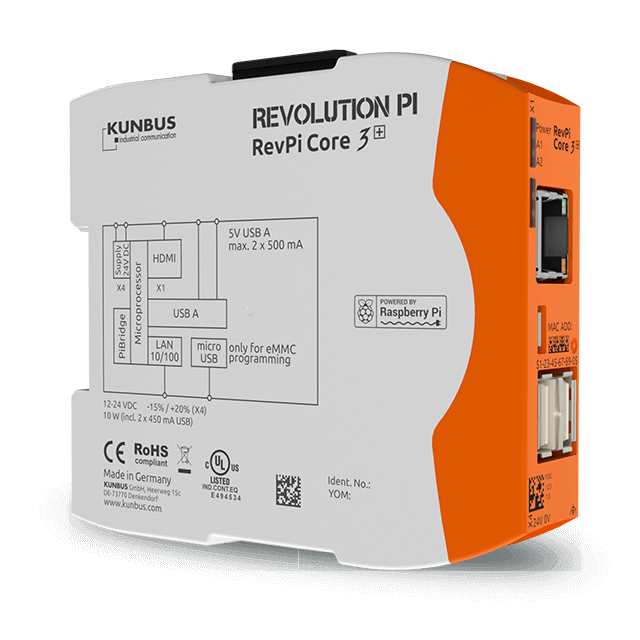 RevPi Core 3+
SKU #:
KU-PR100299, KU-PR100301
This item is currently out of stock. Please email or contact us for lead times and availability.
A Robust Open Source IPC Based on Raspberry Pi
The powerful RevPi Core 3+ was created for those needing more storage than the RevPi Core 3 provides.
The quad-core RevPi Core 3+ comes equipped with the Raspberry Pi Compute Module 3 for the ultimate in high performance for complex tasks such as image processing. RevPi Core 3+ comes equipped with an adapted Raspbian Jessie with an RT patch. In addition to quadrupling the number of CPUs (Broadcom BCM2837B0), improvements to this latest version include 1 GB of RAM and 1.2 GHz clock rate, and 8-32 GB of eMMC flash memory.
Consisting of open hardware and software, the RevPi Core 3+ IPC meets the EN61131-2 standard. Its modular design allows for it to be enhanced with digital and analogue I/O modules as well as appropriate fieldbus gateways. Mounted in a DIN rail housing, the RevPi Core 3+ has USB, ethernet and HDMI ports, and runs on the standard industrial 24-volt power supply.
Lastly, the RevPi Core 3+ has Master and Slave capabilities for the two highly popular communication protocols Modbus TCP and Modbus RTU. Expensive external gateways are no longer required. The RevPi Core 3+ is therefore an economical and logical choice for use as an industrial PC.
Review the UL Certificate.
Weight
approx. 115 g
Protection class
IP20
Power supply
min. 10.7 V - max. 28.8 V
Max. power consumption
10 Watt (incl. 2 x 450 mA USB load)
Operating temperature
-40 °C to +55 °C (exceeds EN61131-2 requirements)
Storage temperature
-40 °C to +85 °C (exceeds EN61131-2 requirements)
Humidity (40°C)
up to 93% (non-condensing)
Interfaces
2 x USB 2.0 A (each can be charged with 500mA)
1 x Micro-USB
1 x Micro HDMI
1 x RJ45 (Ethernet) 10/100 Mbit/s
Processor

BCM2837B0

, 1.2 GHz, ARM Cortex A53 quad-core (ARMv8)
RAM
1 GB
Flash
8-32 GB
Polarity protection
Yes
ESD protection
4 kV / 8 kV (according to EN61131-2 and IEC 61000-6-2)
EMI tests
Passed (according to EN61131-2 and IEC 61000-6-2)
Surge/Burst tests
Passed (according to EN61131-2 and IEC 61000-6-2 using power supply, Ethernet line und IO lines)
Buffer time RTC
min. 24 h
Optical indicator
Three status LEDs (bi-color), two of them freely programmable
Operating system
Raspian - version Jessie with RT-Patch