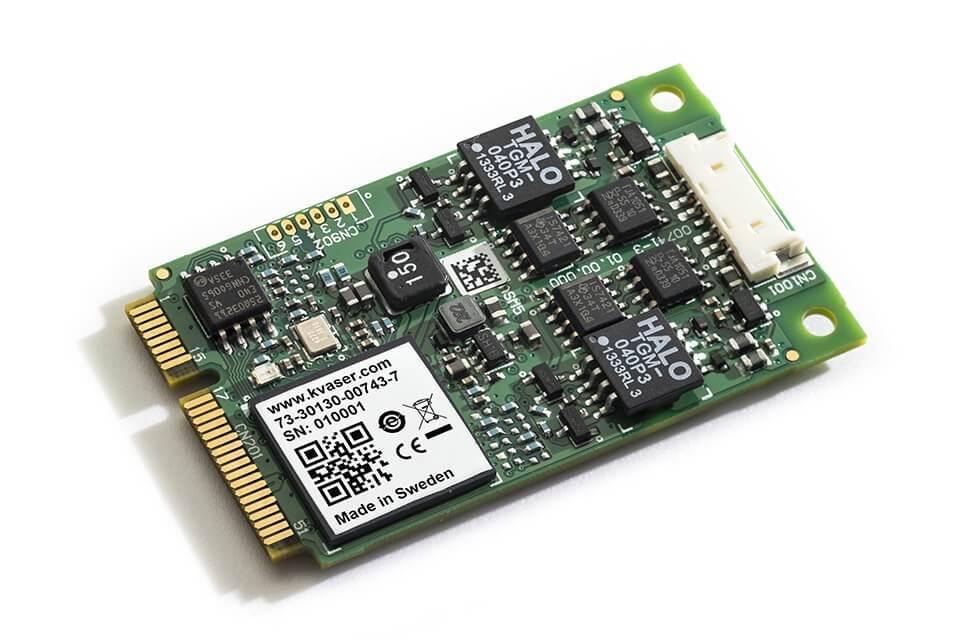 Kvaser Mini PCI Express 2xHS (2 CH)
Measuring just 30 x 51mm, the Kvaser Mini PCI Express 2xHS Card is a highly integrated CAN insert board that adds two high speed controller area network (CAN) channels to any standard computer board with mini PCI Express capability. Offering silent mode, error frame detection and an on-board buffer, the small form factor board fits any embedded data acquisition systems, but is particularly suitable for fleet management to monitor key parameters such as fuel economy, engine speed, braking and accelerator pressure, and gearshift patterns.
Major features of the Kvaser Mini PCI Express 2xHS:
Supports a bit rate from 40 to 1000 kbit/s and a CAN transfer rate up to 20000 messages/s.
Time stamp accuracy is 25 µs
Low profile connector complies with the mini PCI Express standard, which connects via a cable to a DSUB (or other type) at the computer housing.
A 7 pin Molex connector provides dual CAN channel access.
Complies with EN 61000-6-2:2005, specifying EMC immunity for industrial environments.
Operates over the industrial temperature range of -40 to +85°C.
Kvaser's free of charge CANLIB SDK can be used to develop software for the Mini PCI Express HS board.
Support for Linux, in the form of drivers and a dedicated SDK, are available as a separate download.
Property
Value
The information herein is subject to change without notice.
Galvanic Isolation
Yes
Bitrate
40-1000 kbit/s
Silent mode
Yes
Error frame generation
No
Error frame detection
Yes
Weight
6 grams
Timestamp resolution
25μs
On board buffer
No
Maximum message rate, send
18000
Maximum message rate, receive
20000
Sound
No
Clock synchronization
N/A
Temperature range
-40°C to +85°C
Dimensions (WxLxH)
30x50x5mm
Kvaser SocketCAN Device Drivers
Kvaser SocketCAN Drivers for Linux.
Version V1.10.477
Kvaser Linux Driver and SDK
Linux driver and SDK for Kvaser PCIcan/PCIcanx, Kvaser PCIcanII, Kvaser PC104+, Kvaser PCIcanx II, Kvaser USBcan II, Kvaser Memorator*, Kvaser Leaf family, Kvaser Memorator Pro**, Kvaser USBcan Pro and VirtualCAN. For LAPcan and LAPcan II, you should use version 4.2 of the driver. (*) only with USBcanII functionality, (**) only with USBcan Pro functionality
Version V5.38.841
Kvaser DIADEM Driver
This free driver for National Instrument's DIAdem supports all CAN hardware from Kvaser.
Version V4.1.0
Kvaser Drivers for Windows
Windows drivers for all our CAN hardware. Please check release notes for information on which Windows versions are supported. It also contain a driver for the virtual CAN bus.
Version V5.38.841
Kvaser Firmware Update Tool
Firmware Update tool for most Kvaser devices.
Version V4.27.841
Python module
The Canlib module is a Python wrapper for Kvaser CANlib SDK.
Version V1.20.360
Kvaser LabView VI Library for CAN
Library for National Instrument's LabView. Version for all Kvaser CAN hardware.
Version V19.3.0
Kvaser CANlib SDK
Software development kit - everything you need to develop software for the Kvaser CAN and LIN interfaces. Libraries, header files, sample programs for e.g. C, C++, C#, Visual Basic and Delphi, documentation, and more. Note: you need to download and install the appropriate device drivers separately.
Version V5.38.841
Kvaser CANKing
A free of charge, general-purpose CAN bus monitor. It works with all CAN interfaces from Kvaser and also with the virtual CAN bus.
Version V6.21.288