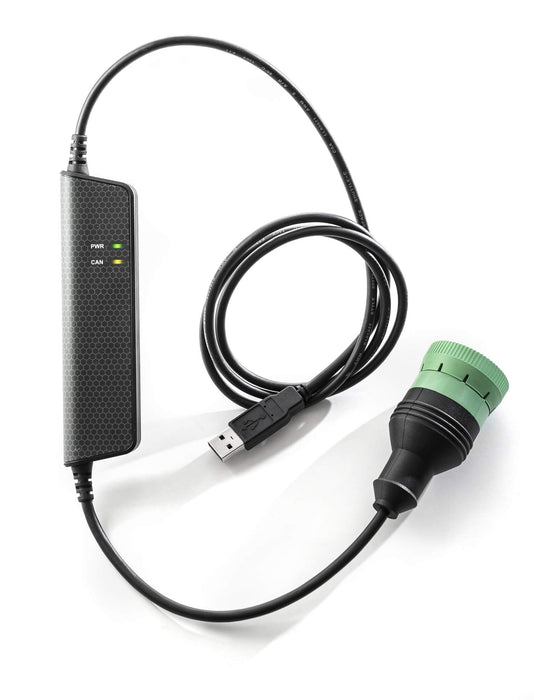 Kvaser Leaf Light HS v2 J1939-13 Type II
Kvaser's Leaf Light HS V2 J1939-13 Type II is the latest version of Kvaser's popular line of Leaf Light V2 USB-to-CAN interfaces. This application specific device offers a simple way of connecting a desktop or laptop computer with a USB 2.0 connector to an on-board computer in any vehicle by means of its 9-pin J1939-13 Type II compliant CAN connector. Supported CAN baudrates are 250 kBit/s and 500 kBit/s. The Kvaser Leaf Light product series provides reliable, low cost interface tools for connecting any CAN network to a PC or mobile computer in vehicle diagnostic applications and beyond.
NOTE: This product replaces the Kvaser Leaf Light HS V2 - J1939-13.
Kvaser's Leaf Light V2 series is the workhorse of the CAN interface world. The newly launched Kvaser Leaf Light V2 supports high speed USB for CAN and offers high performance at low cost. Loss free transmission and reception of standard and extended CAN messages on the CAN bus is transmitted with a time stamp precision of 100 microseconds.
The Kvaser Leaf Light V2 is a high speed USB interface for CAN that offers loss free transmission and reception of standard and extended CAN messages on the CAN bus.
8000 messages per second, each time-stamped with 100 microsecond accuracy
Galvanic isolation, previously a more expensive option on Kvaser's original Leaf Light, now comes as standard on the Leaf Light v2, enhancing protection from power surges or electrical shocks.
Low current consumption of 70 mA, reducing power drain from your laptop.
Local buffering and pre-processing results in high performance and a reduction of time critical tasks for the PC.
Leaf Light v2 comes with free software, free software updates and free support. Kvaser's easy-to-use Kvaser CANlib applications programming interface (API) has virtual hardware that simulates our real hardware, so you can start developing around the Leaf Light v2 interface right away.
Property
Value
The information herein is subject to change without notice.
Galvanic Isolation
Yes
Bitrate
40-1000 kbit/s
Silent mode
No
Error frame generation
No
Error frame detection
Yes
Weight
100 g
Timestamp resolution
100 ms
On board buffer
Yes
Maximum message rate, send
8000
Maximum message rate, receive
8000
Sound
No
Clock synchronization
N/A
Dimensions (WxLxH)
40x100x20 mm (1.6x3.9x0.8in.)
Kvaser SocketCAN Device Drivers
Kvaser SocketCAN Drivers for Linux.
Version V1.10.477
Kvaser Linux Driver and SDK
Linux driver and SDK for Kvaser PCIcan/PCIcanx, Kvaser PCIcanII, Kvaser PC104+, Kvaser PCIcanx II, Kvaser USBcan II, Kvaser Memorator*, Kvaser Leaf family, Kvaser Memorator Pro**, Kvaser USBcan Pro and VirtualCAN. For LAPcan and LAPcan II, you should use version 4.2 of the driver. (*) only with USBcanII functionality, (**) only with USBcan Pro functionality
Version V5.38.841
Kvaser DIADEM Driver
This free driver for National Instrument's DIAdem supports all CAN hardware from Kvaser.
Version V4.1.0
Kvaser Drivers for Windows
Windows drivers for all our CAN hardware. Please check release notes for information on which Windows versions are supported. It also contain a driver for the virtual CAN bus.
Version V5.38.841
Kvaser Firmware Update Tool
Firmware Update tool for most Kvaser devices.
Version V4.27.841
Python module
The Canlib module is a Python wrapper for Kvaser CANlib SDK.
Version V1.20.360
Kvaser LabView VI Library for CAN
Library for National Instrument's LabView. Version for all Kvaser CAN hardware.
Version V19.3.0
Kvaser CANlib SDK
Software development kit - everything you need to develop software for the Kvaser CAN and LIN interfaces. Libraries, header files, sample programs for e.g. C, C++, C#, Visual Basic and Delphi, documentation, and more. Note: you need to download and install the appropriate device drivers separately.
Version V5.38.841
Kvaser CANKing
A free of charge, general-purpose CAN bus monitor. It works with all CAN interfaces from Kvaser and also with the virtual CAN bus.
Version V6.21.288