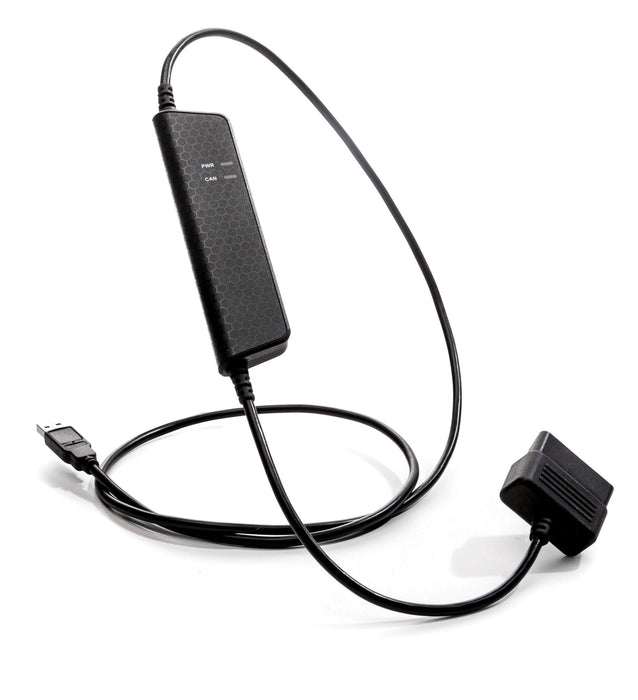 Kvaser Leaf Pro HS V2 OBD2
Save

Liquid error (snippets/product-badge line 47): Computation results in '-Infinity'

%
Kvaser's latest addition to the popular "Leaf" family brings programmability to user's fingertips along with support of the faster CAN with Flexible Data-Rate (CAN FD). Kvaser's Pro versions boast a high transmit capability that meets the needs of CAN FD frames. It also supports customization using the t programming language from Kvaser. For example, users can run a t program to speed up file transfer protocols or to emulate ECUs and other devices by generating traffic and handling protocols. This model has a 16-pin OBDII connector, bus is also available with a standard 9-pin DSUB connector.
Please see Kvaser Leaf Pro HS v2 for details.
Supports CAN FD
Quick and easy plug-and-play installation
Supports both 11-bit (CAN 2.0A) and 29-bit (CAN 2.0B active) identifiers
Power is taken from the USB bus
Galvanic isolation
High-speed CAN connection (compliant with ISO 11898-2), up to 1 Mbit/s
Fully compatible with J1939, CANopen, NMEA 2000 and DeviceNet
Kvaser MagiSync provides automatic time synchronization between several PC-to-bus interfaces connected to the same PC
Programming functionality to support interface mode e.g. Optimize protocol handling, pre-filter CAN messages directly on the interface, or simulate missing hardware
Simultaneous operation of multiple devices
Warranty
2-Year Warranty.
Support
Free Technical Support on all products available by contacting support@kvaser.com.
Software
Documentation, software and drivers can be downloaded for free at www.kvaser.com/downloads
Kvaser CANLIB SDK is a free resource that includes everything you need to develop software for the Kvaser CAN interfaces. Includes full documentation and many program samples, written in C, C++, C#, Delphi, and Visual Basic
All Kvaser CAN interface boards share a common software API. Programs written for one interface type will run without modifications on the other interface types!
J2534 Application Programming Interface available
RP1210A Application Programming Interface available
On-line documentation in Windows HTML-Help and Adobe Acrobat format
Property
Value
The information herein is subject to change without notice.
Galvanic Isolation
Yes
Bitrate
40-1000 kbit/s
Silent mode
Yes
Error frame generation
Yes
Error frame detection
Yes
Weight
120 grams
Temp Range
-40...+85 degC
Material
Highly Durable Plastic
Maximum message rate, send
20000
Maximum message rate, receive
20000
Sound
No
Current Draw
max 195mA
Dimensions (WxLxH)
17x165x20 mm ()
Kvaser DIADEM Driver
This free driver for National Instrument's DIAdem supports all CAN hardware from Kvaser.
Version 1.0.0
Kvaser Drivers for Windows
Windows drivers for all our CAN hardware. Please check release notes for information on which Windows versions are supported. It also contain a driver for the virtual CAN bus.
Version 5.6.0
Kvaser Leaf V2 Firmware
Firmware Kvaser Leaf Light V2
Version 3.2.302
Kvaser CANKing
A free of charge general-purpose CAN bus momnitor. Works with all CAN interfaces from Kvaser. Windows 200 and later recommended.
Version 5.3.889
Kvaser CANlib SDK
Software development kit - everything you need to develop software for the Kvaser CAN and LIN interfaces. Link libraries, header files, sample programs, Microsoft Visual Basic and Borland Delphi components, documentation, and more. Note: you need to download and install the appropriate device drivers separately
Version 5.6.0
Kvaser LabView VI Library for CAN
Library for National Instrument's LabView version for all Kvaser CAN hardware.
Version 6.1.0
Kvaser Linux Driver and SDK
Linux driver and SDK for Kvaser PCIcan/PCIcanx, Kvaser PCIcanII, Kvaser PC104+, Kvaser PCIcanx II, Kvaser USBcan II, Kvaser Memorator*, Kvaser Leaf family, Kvaser Memorator Pro**, Kvaser USBcan Pro and VirtualCAN. For LAPcan and LAPcan II, you should use version 4.2 of the driver. (*) only with USBcanII functionality, (**) only with USBcan Pro functionality
Version 5.3.0
Remove old drivers
Driver removal program. This program will remove the CAN driver (version 3.2 or older) from your computer. This is a version intended for those who have installed CANLIB 3.2 or older. Use it only if you need to remove an old version of the driver from your computer. Contact technical support if you have any questions.
Version 3.9c