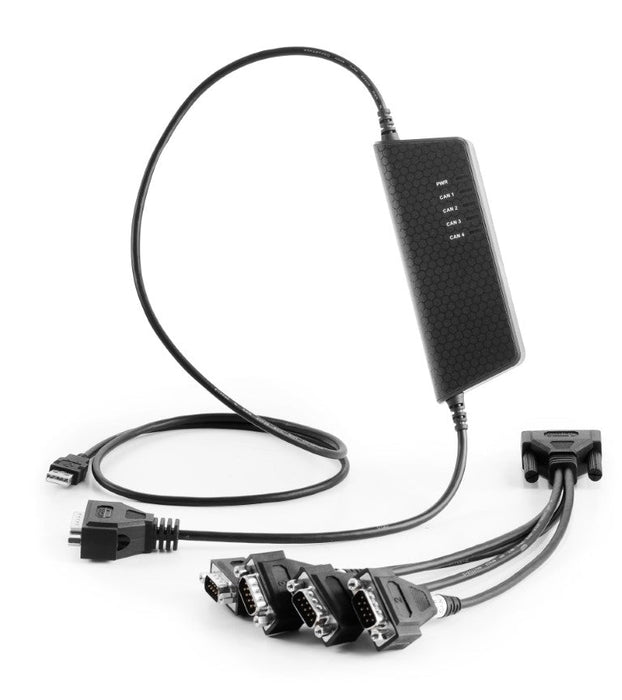 Kvaser USBcan Pro 4xCAN Silent
The USBcan Pro 4xCAN Silent, a compact, multichannel four-channel CAN/CAN FD to USB real-time interface that is always silent on the CAN bus ('listen only'). This CAN interface is made silent through hardware and thus, cannot transmit on bus.
Standard CAN interfaces receive and transmit CAN messages, enabling them to be used to configure the system to which they are connected. However, certain customers, particularly those developing highly sensitive autonomous or safety-critical systems, require CAN interfaces capable of listening only, so that the interface has no impact on the bus or surrounding systems. Listen-only interfaces are also used to prevent any application or third-party, such as a hacker, from impacting the CANbus and its related systems through the Kvaser device.
USB CAN interface with Kvaser t programmability. 
Always silent – listens to the bus without interfering it.
Supports CAN FD, up to 8 Mbit/s.
Quick and easy plug-and-play installation. 
Supports both 11-bit (CAN 2.0A) and 29-bit (CAN 2.0B active) identifiers. 
Power is taken from the USB port.
100% compatible with applications written for other Kvaser CAN hardware with Kvaser CANlib. 
High-speed CAN connection (compliant with ISO 11898-2), up to 1 Mbit/s. 
Fully compatible with J1939, CANopen, NMEA 2000® and DeviceNet. 
Kvaser MagiSync – automatic time synchronization (see Section 4.7, Kvaser MagiSync, on Page 19 for more details). 
Supports simultaneous usage of multiple Kvaser interfaces. 
Property
Value
The information herein is subject to change without notice.
Galvanic Isolation
Yes
Bitrate
20-1000 kbit/s
CAN FD Bitrate
Up to 8 Mbit/s
Categories
Interfaces, Hardware, CAN
Certificates
CE, RoHS
Channels
4
Connectors
26-pin HD D-SUB
Current Consumption
max 500 mA
Error Counters Reading
Yes
Interfaces
USB
OS
Linux, Win 7, Win 8, Win 10
Silent mode
Always
Error frame generation
No
Error counters reading
Yes
Weight
400 g
Timestamp resolution (µs)
1 µs
Messages Per Second, Sending
20,000 mps
Message Per Second, Receive
20,000 mps
Sound
No
Temp Range
-40 °C to +85 °C
Dimensions
Length: 170 mm (6.7"), Height: 20 mm (1.0")
Kvaser SocketCAN Device Drivers
Kvaser SocketCAN Drivers for Linux
Version V1.9.322
Kvaser Linux Drivers and SDK
Linux drivers and SDK for most Kvaser devices.
Version V5.37.686
Kvaser DIADEM driver
This free driver for National Instrument's DIAdem supports all CAN hardware from Kvaser.
Version V4.1.0
Kvaser Drivers for Windows
Windows drivers for all our CAN hardware. Please check the release notes for information on which Windows versions are supported. The package also contains a driver for a virtual CAN bus, for testing and evaluation when you don't have access to a physical CAN bus.
Version V5.37.686
Kvaser Firmware Update Tool
Firmware Update tool for most Kvaser devices.
Version V4.26.686
Python module
The Canlib module is a Python wrapper for Kvaser CANlib SDK.
Version V1.19.205
Kvaser CANKing
A free of charge, general-purpose CAN bus monitor. It works with all CAN interfaces from Kvaser and also with the virtual CAN bus.
Version V6.20.210
Kvaser LabView VI Library for CAN
Library for National Instrument's LabView version for all Kvaser CAN hardware.
Version V19.3.0
Kvaser CANlib SDK
Software development kit - everything you need to develop software for the Kvaser CAN and LIN interfaces. Libraries, header files, sample programs for e.g. C, C++, C#, Visual Basic and Delphi, documentation, and more. Note: you need to download and install the appropriate device drivers separately.
Version V5.37.686
The USBcan Pro 4xCAN Silent, a compact, multichannel four-channel CAN/CAN FD to USB real-time interface that is always silent on the CAN bus ('listen only'). This CAN interface is made silent throu...