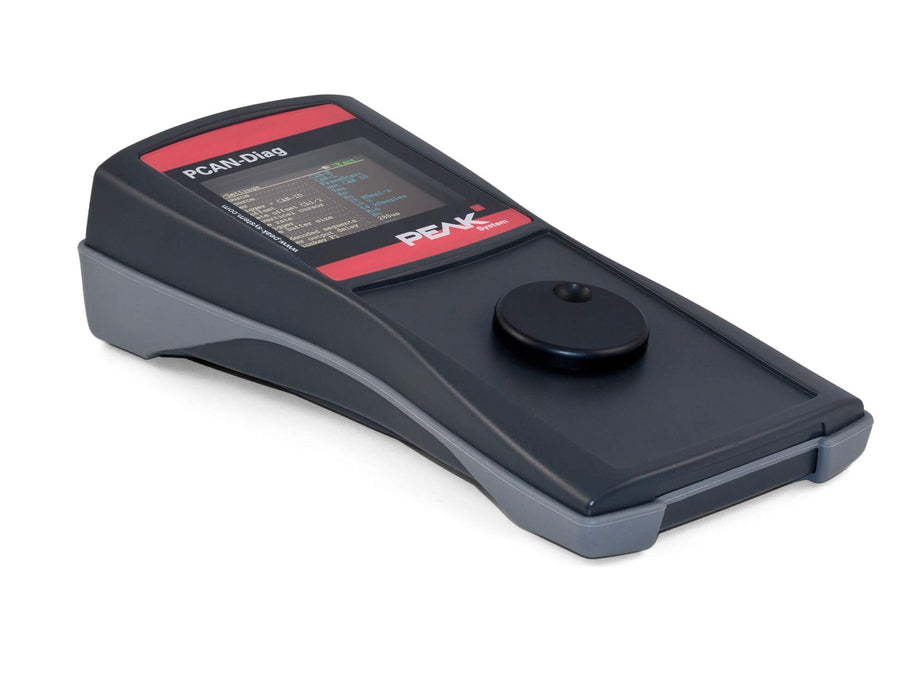 The PCAN-Diag 2 designed by PEAK-System Technik is a handheld diagnostics unit with a multitude of functions to assist with troubleshooting of a CAN bus, such as detection of the CAN bit rate, bus load measurement, and CANbus termination check. CAN messages can both be received and displayed as well as transmitted either as individual messages or entire sequences. The internal memory card allows tracing and playback of the CAN traffic.
The dual-channel oscilloscope inside the unit enables CAN signal visualization. Different trigger events such as single CAN IDs, start of frame, end of frame among others can be used. The CAN frames are decoded based on the recorded signal graph which allows to detect errors within the frame.
To assist with clear and easy allocation of incoming CAN messages they can displayed as symbols . In order to create the symbol files needed for this feature PEAK supplies the PCAN-Symbol Editor software as part of the delivery contents.
A color display with OLED technology provides the user with excellent readability even under strong ambient light conditions. The PCAN-Diag V2 operator selects and handles the individual diagnostic functions using a push dial. Besides the default high-speed CAN other CAN transceiver modules are also available on request for connecting to low-speed (LS) or single-wire CAN (SWC).

The PCAN-Diag V2 can be powered using an AC/DC wall adapter or by means of four 1.5V AA batteries.
Delivery Contents:
PCAN-Diag 2 in plastic casing
Configuration software PCAN-Diag Editor for Windows® 10, 8, 7 (32/64-bit)
PCAN Symbol Editor for Windows® Details ...
Conversion software PEAK-Converter for Windows® 10, 8, 7 (32/64-bit)
Batteries (4 x 1.5 V AA)
Micro USB connector cable
Power supply unit with changeable plugs for Euro, U.S., and UK
Manual in PDF format
Printed quickstart guide
Delivered in shockproof plastic box
Overview of functions
Selection of the bit rate from a preset list or from 8 user-defined values
Automatic bit rate detection based on a fixed value list
Switchable listen-only mode
Switchable silent startup function (listen-only mode at wrong bit rate)
Symbolic display of incoming CAN messages using symbol files, taking into account enums (lists of values), multiplexers, and ID ranges
Symbol files can be set up using the software PCAN-Symbol Editor supplied with this product
Recording of incoming CAN messages to the internal memory card
Playback of trace files
Conversion of trace data to various output formats using Windows® software
Transmitting individual CAN frames or CAN frame lists
Decimal, hexadecimal, or binary entering of CAN data. Data change of a single transmission message during runtime.
Measurement of the CAN bus load, display over time chart (incl. error frames if required)
Bus-load time diagrams can be saved as Bitmap screenshots
Measurement of CAN termination for High-speed CAN bus, even while the system is running
Switchable CAN termination for the connected bus, depending on the transceiver module used
Voltage measurement for all pins of the CAN connector (D-Sub)
Management of device configuration, transmit lists, symbol files, and all recorded data (screenshots, trace, and CSV files) in projects
Optional auto-reset on bus off error
Features of the software PCAN-Diag Editor for Windows®, supplied with this product:
Convenient configuration of all available device settings
Compilation of transmit lists
Configuration of up to 8 bit rates per project
Device configuration, transmit lists, and associated symbol files can be saved in projects
Projects can be transferred to the memory card of the PCAN-Diag 2 using an USB connection
Note about the trace function
With the firmware 1.4.8 tracing of CAN messages is now possible. In order to record also at a high bit rate together with high CAN bus load, a hardware upgrade is vailable for devices that had been delivered before February 2012. If you are interested and for further information, please contact class="EmailLink" href="mailto:info@peaksystem.com">info@peak-system.com.
Oscilloscope functions
Oscilloscope with two independent measurement channels, each with a maximum sample rate of 20 MHz
Display of the CAN-High and the CAN-Low signals as well as the difference of both signals
Inspection of external signals (with frequencies up to 1 MHz) with a probe via the BNC connection
Trigger configuration to frame start, frame end, CAN errors, or individual CAN frames based on their CAN ID
External measurement devices can be triggered using the BNC connector
Depiction of raw CAN frames
Decoding of CAN frames from the recorded signal trace
Display of various properties and of measuring data of the decoded CAN frame using the Report function
Current view can be saved as a Bitmap screenshot
Memory depth can be set to up to 64 kSamples
Recorded sample data can be saved as a CSV file
Extensive zoom functions
Time measurement with a resolution of up to 50 ns
| | |
| --- | --- |
| Interface(s) | Internal Memory Card for saving projects. Also can be used as a USB mass storage device when connected to a PC |
| Power Supply | 4, 1.5V AA batteries or included AC wall supply (8-50VDC) |
| Included In Box | Plastic case for carrying |
| Protocols | High-speed CAN ISO 11898-2, CA transceiver module on request for low-speed CAN ISO 11898-3 or single-wire CAN SAE J2411 |
| Software | PCAN Diag Editor Software & PCAN Symbol Editor Software included |
| Display | OLED display with 320 x 240 pixels |
| Connector(s) | CAN connection via DB-9 connector |
| Operating temperature | 0°C to +50°C |
PCAN-Diag 2 package
Package includes software PCAN-Diag Editor and PCAN-Symbol Editor, the default project, the latest device help, and documentation (German and English).
PEAK-Converter
Conversion of trace data to various output formats using the conversion software PEAK-Converter for Windows® 11 (64-bit), 10 (32/64-bit).
PCAN-Diag2 firmware
Firmware update
The PCAN-Diag 2 designed by PEAK-System Technik is a handheld diagnostics unit with a multitude of functions to assist with troubleshooting of a CAN bus, such as detection of the CAN bit rate, bus ...