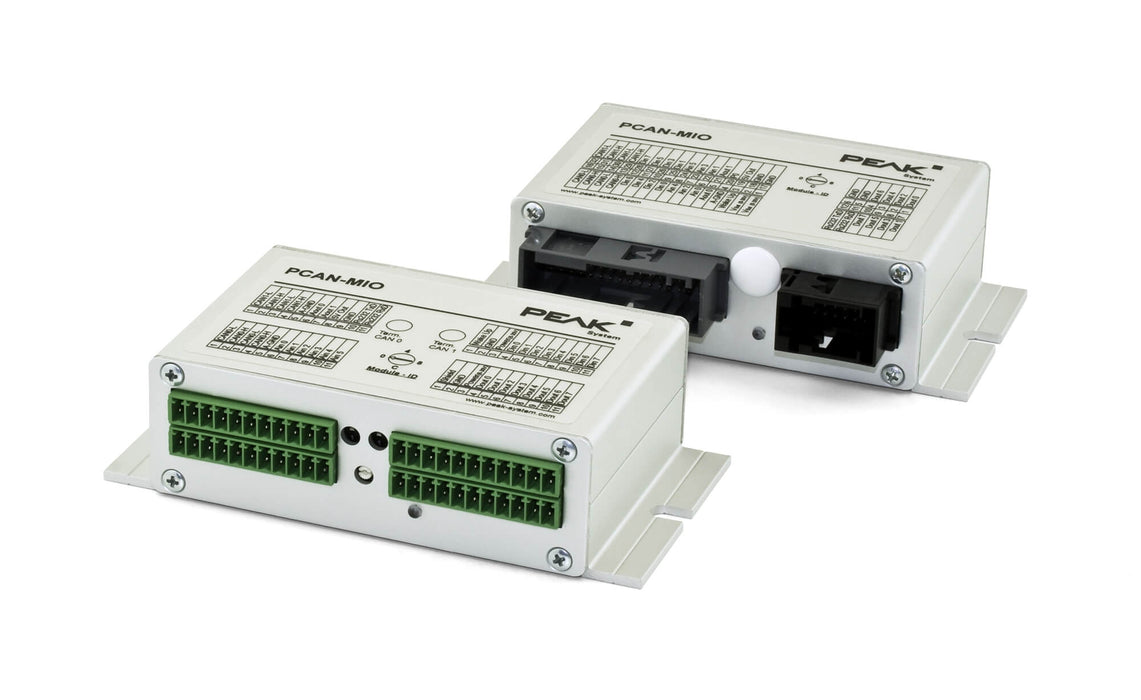 PCAN-MIO (Industrial/Automotive)
SKU #:
IPEH-002187-I, IPEH-002187-A, IPEH-002187-I-Set, IPEH-002187-A-Set
Save

Liquid error (snippets/product-badge line 47): Computation results in '-Infinity'

%
Universal Controller for CAN Applications
The Multiple Input Output Module (MIO) is a universal, modular controller for use both in the industrial and automotive fields.

The module has two CAN interfaces as well as multiple analog and digital inputs and outputs. Incoming signals can be processed by the microcontroller and then forwarded to the CAN interfaces or output channels. For this purpose, the behavior of the PCAN-MIO Module can be freely configured using a comprehensive Windows® software. A large number of function blocks and other settings are available to help the user in creating such a configuration.

A bus structure also enables expansion of the number of inputs and outputs with additional modules. Customer-specific requirements can be implemented in doing so.
Scope of supply PCAN-MIO
PCAN-MIO in aluminum casing including mating connectors
Configuration software PPCAN-Editor 2 for Windows® Details ...
Manual in PDF format
Scope of supply PCAN-MIO Set
PCAN-MIO in aluminum casing including mating connectors
CAN interface PCAN-USB
Configuration software PPCAN-Editor 2 for Windows® Details ...
Manual in PDF format
2 High-speed CAN channels via plugable transceiver modules. Alternatively, Low-speed, Single-wire, and opto-decoupled High-speed modules, as well as High-speed modules without wake-up function available
Wake-up function using separate input or CAN bus
CAN termination switchable
8 digital inputs with low-pass performance
8 digital outputs, 2 of these with PWM capability
6 analog inputs, measuring range unipolar 0 - 10 V, (resolution 10 bit, sample rate 1kHz)
2 analog outputs (10 bit, 0 - 10 V)
Suitable for use in the automotive field
Detailed configuration with the software PPCAN-Editor 2 for Windows®
Module can store up to 15 configurations
CAN gateway between buses
Individual function blocks for data linkage and data modification
Available with industrial connectors (Phoenix spring terminal connectors) or automotive connectors (Tyco connectors)
Aluminum casing with flange. DIN rail fixing option available on request
9 - 27 V voltage supply, overvoltage and reverse polarity protection
Extended operating temperature range from -40 to 85 °C (-40 to 185 °F)
Power Supply
Supply voltage: 9 - 30 V DC
Brownout check: Reset if internal 5-Volt supply < 4.35 V
Current consumption: 60 mA typ. (without separate circuits)
Reverse-polarity protection: Yes
Sensor power supply: 5 V (max. -2 %), 500 mA
CAN
Standard transceiver: Up to ser. no. 99: High-speed CAN ISO 11898-2 (TJA1040)
From ser. no. 100: High-speed CAN ISO 11898-2 with wake-up function (TJA1041)
Other transceivers (on request): High-speed CAN ISO 11898-2 (TJA1040) with galvanic isolation, Low-speed CAN ISO 11898-3 (TJA1054) with wake-up function, Single-wire CAN SAE J2411 (TH8056) with wake-up function
Wake-up time: typically 200 ms (depending on the size of the configuration)
Termination: Setup with switches on the board
CAN OFF ON
High-speed none 120 Ω
Low-speed 4.7 kΩ 1.1 kΩ
Single-wire 9.1 kΩ 2.1 kΩ
CAN ID reserved for configuration transfer: 7E7h
Interference resistance
Tests: IEC 61000 and DIN EN 61326 compliant
Peculiarity surge: ±500 V
Dimensions
130 x 65 x 35 mm (5 1/8 x 2 9/16 x 1 3/8 inches) (without plug), see User's Manual for more details
Weight
max. 280 g (9.9 oz.)
Operating temperature
-40 - +85 °C (-40 - +185 °F)
Storage temperature
-40 - +100 °C (-40 - +212 °F)
Relative humidity
15% to 90% (non-condensing)
Ingress protection (IEC 60529)
IP20
PPCAN-Editor 2
Configuration software for Windows® 8, 7, Vista, XP (32/64-bit)