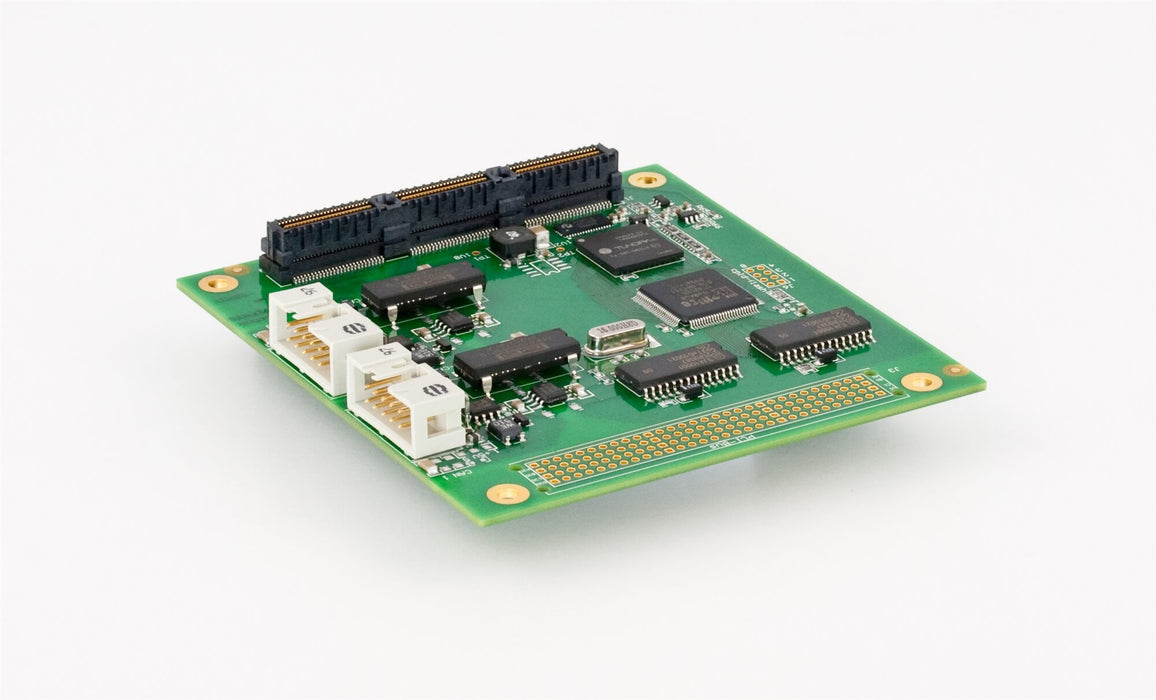 PCAN-PCI/104 Express card, iso (1ch/2ch)
SKU #:
IPEH-003056, IPEH-003057
Save

Liquid error (snippets/product-badge line 47): Computation results in '-Infinity'

%
The PCAN-PCI/104-Express card enables the connection of one, two or four CAN networks to a PCI/104-Express-System. Up to three cards can be stacked together. The CAN bus is connected using a 9-pin D-Sub plug on the slot bracket supplied. The card is available as a single or dual-channel version. The opto-decoupled versions also guarantee galvanic isolation of up to 500 Volts between the PC and the CAN sides. The package is also supplied with the CAN monitor PCAN-View for Windows® and the programming interface PCAN-Basic.
Part numbers: IPEH-003056 = single channel CAN; IPEH-003057 = dual channel CAN
PCI/104-Express card, 1 lane (x1)
PC/104 Form factor
Up to three cards can be used in one system
Bit rates up to 1 Mbit/s
Compliant with CAN specifications 2.0A (11-bit ID) and 2.0B (29-bit ID)
CAN bus connection via D-Sub, 9-pin (in accordance with CiA® 102)
NXP SJA1000 CAN controller, 16 MHz clock frequency
NXP PCA82C251 CAN transceiver
5-Volts supply to the CAN connection can be connected through a solder jumper, e.g. for external bus converter
Extended operating temperature range from -40 to 85 °C (-40 to 185 °F)
Includes slot bracket with D-Sub connectors for the CAN bus
Galvanic isolation on the CAN connection up to 500 V, separate for each CAN channel
Dual-channel version available
Optional PC/104 stack-through connector 
Interface(s)
PC: PC/104-Express PCIe/104
CAN: ISO 11898-2, complies with CiA-recommendation DS 102
Power Consumption
1 channel isolated max 250mA (3.3V), 120 mA (5.0V)
2 channel isolated max 250mA (3.3V), 150mA (5.0V)
Baud Rate
CAN: max. 1 Mbit/s
Pinout
C.I.A. DS-102 (CAN_H = 7, CAN_L = 2, CAN_GND = 3)
Transceiver
CAN: NXP PCA82C251
Dimensions
90.1 x 95.9 x 15 mm
Weight
44g (single CAN), 50g (dual CAN)
Software
Driver: Windows® 10, 8.1, 7 and Linux (32/64-bit)
Tools: PCAN-View for Windows®
Controller(s)
CAN: NXP SJA1000
Channels
1 or 2
I/O & IRQ
automatically assigned via "plug n play"
Isolation
500 VDC
Specification
CAN: 2.0A (Standard format) and 2.0B (extended format)
Operating temperature
-40°C to +85°C
Storage temperature
-40°C to +125°C
Relative humidity
15% to 90% (non-condensing)
EMC directives
EN 55024:2003-10
EN 55022:2007-04
EC directive 89/336/EEC
Certifications
CE, RoHS