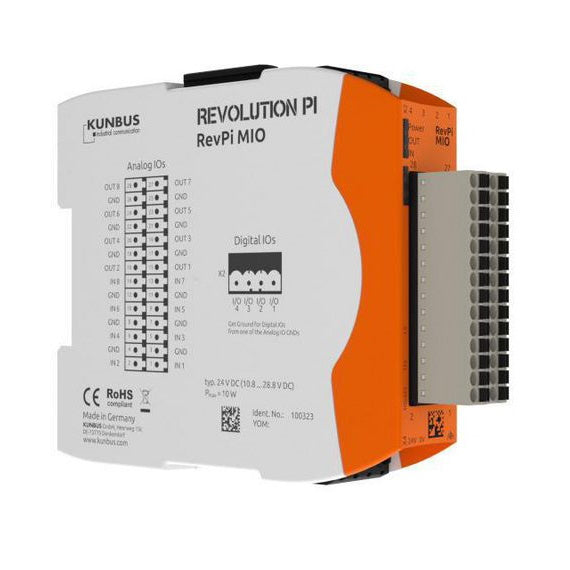 RevPi MIO Analog & Digital I/O Module
Save

Liquid error (snippets/product-badge line 47): Computation results in '-Infinity'

%
In addition to the dedicated digital and analog I/O expansion modules, there is also an I/O module for Revolution Pi that has digital inputs/outputs as well as analog inputs/outputs.
The RevPi MIO adds 8 analog inputs, 8 analog outputs and 4 digital channels to the Revolution Pi system. The digital channels can be individually configured via software either as digital inputs or digital outputs. Like all I/O modules, the RevPi MIO is protected against interference in accordance with the EN 61131-2 standard and can be operated at -20 °C to +55 °C ambient temperature.
Analog Inputs and Outputs
The 8 analog inputs and 8 analog outputs can be connected via the 28-pin terminal connector on the front of the module. Both the inputs and the outputs operate with 0 – 10 V. Variable switching thresholds allow the analog inputs to behave like digital inputs. The switching thresholds can be set for each channel. Each analog input is high impedance with a 100 kΩ input resistor and has a hardware filter with a cutoff frequency of 1.5 kHz. Additionally, each input is protected against ESD pulses by a protection diode.
The analog outputs can also be configured to output a constant, predefined voltage. This allows the analog outputs to be used like digital outputs and logic levels up to 10 V can be used.
Digital inputs and outputs
In addition to its analog inputs and outputs, the RevPi MIO also features 4 digital channels. Each channel can be configured either as digital input or digital output via the Revolution Pi configuration tool PiCtory. Furthermore, the following operating modes can be set: PWM input, pulse measurements, GPI 24 V, PWM output, pulse output & GPO 24 V level output.
8 analog inputs and 8 analog outputs can be connected via the 28-pin terminal connector
Both the inputs and the outputs operate with 0 – 10 V
Variable switching thresholds allow the analog inputs to behave like digital inputs
The switching thresholds can be set for each channel
Each analog input is high impedance with a 100 kΩ input resistor and has a hardware filter with a cutoff frequency of 1.5 kHz
RevPi MIO also features 4 digital channels
Property
Value
The information herein is subject to change without notice.
Standard
EN 61131-2
Housing dimensions (H x B x D)
96 x 22.5 x 110.5 mm
Housing type
DIN rail housing (for DIN rail version EN 50022)
Housing material
Polycarbonate
Weight
Approx. 115 g
IP Code
IP20
Power supply
24 V DC (10.8 ... 28.8 V DC)
Current consumption
410 mA maximum load
Max. power consumption - system
10 W
Operating temperature
-20…+55 °C
Storage temperature
-40…+85 °C
Humidity (at 40 °C)
93 % (non-condensing)
Interfaces
8 analog inputs
8 analog outputs
4 digital inputs/outputs
Analog inputs
Measurement range: 0…10 V DC
Rated voltage: 24 V DC
Input impedance: > 100 kOhm
ADC type: Single ended
Max. overall input error: ±0.3 % (of full-scale range)
Sample rate: 8 ms / 125 Hz
Resolution: 1 mv (process image)
Galvanic Isolation: No
Analog input modes
Analog input, logic level input
Analog outputs
Output voltage: 0…10 V DC
Rated voltage: 24 V DC
Output impedance: 30 mA during short-circuit -> 330 Ohm during short-circuit
Max. output current: 10 mA 10 V @ 1K
DAC type: PWM
Sample rate: 30mV peak to peak
PWM frequency: 8 ms / 125 Hz
Max. overall output error: ±0.3 % (of full-scale range)
Data control rate: 1 PiBridge cycle
Resolution: 4.48 mV
Galvanic Isolation: No
Analog output modes
Analog output, logic level output
Digital in/outputs
Voltage: 24 V DC
Impedance: > 100 kOhm
Digital modes
Digital input, digital output, PWM input, PWM output, pulse input, pulse output, encoder input
EMC interference emission
According to EN 61000-6-4
EMC immunity
According to EN 61000-6-2
Optical indicator
3 status LEDs (bi-color), two of them freely programmable
RoHS conformity
Yes
CE conformity
Yes