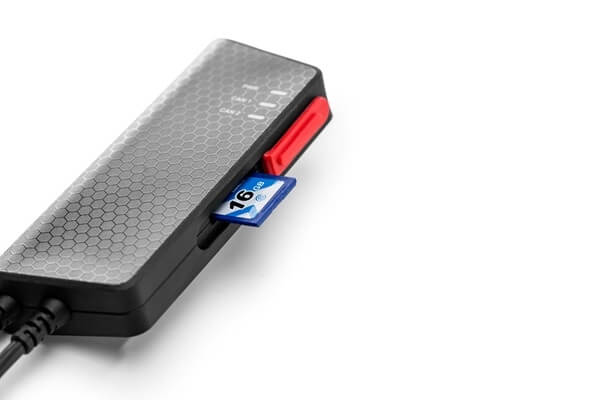 Kvaser Memorator Pro 2xHS V2
The Kvaser Memorator Pro 2xHS v2 is a professional-grade, dual-channel CAN (Controller Area Network) bus interface and stand-alone data logger. It is the newest addition to the popular family of CAN data loggers, offering advanced features such as message filtering, triggers, error detection and generation, silent mode for analysis, expandable SD card slot up to 64 GB, as well as galvanic isolation.
Monitor two CAN channels simultaneously using just one device.
Log data to an expandable SD card slot.
Supports CAN FD up to 8Mbit/s (with proper physical layer implementation).
Script functionality allows users to develop customized t-script applications written in the Kvaser t programming language.
Power derived from the USB connection, CAN or an in-built power supply.
Supports silent mode for analysis tools – listens to the bus without interfering.
Detection and generation of error frames and remote frames.
LED lights alert user to device status, including signalling a full SD card or card error.
Galvanically isolated CAN bus drivers.
Automatically time synchronises the data transmitted and received across both buses.
Built-in Kvaser MagiSync technology time synchronises with other Kvaser interfaces connected to the same PC, resulting in simpler and more accurate multichannel data capture.
Extended operating temperature range from -40 to 85 °C.
Compatible with J1939, CANopen, NMEA 2000® and DeviceNet.
Plug and play installation, and a comprehensive user guide to help make t script development quick and easy.
2-Year Warranty. See our General Conditions and Policies for details.
Free Technical Support on all products available by contacting support@kvaser.com.
Property
Value
The information herein is subject to change without notice.
Galvanic Isolation
Yes
Bitrate
50-1000 kbit/s
Silent mode
Yes
Error frame generation
Yes
Error frame detection
Yes
Weight
150 grams
Timestamp
1
Buffers
Auto TX Buffers, on board buffer
Maximum message rate, send
20000
Maximum message rate, receive
20000
Sound
No
Clock synchronization
MagiSync
Dimensions (WxLxH)
55x150x23 mm
Kvaser SocketCAN Device Drivers
Kvaser SocketCAN Drivers for Linux.
Version V1.10.477
Kvaser Linux Driver and SDK
Linux driver and SDK for Kvaser PCIcan/PCIcanx, Kvaser PCIcanII, Kvaser PC104+, Kvaser PCIcanx II, Kvaser USBcan II, Kvaser Memorator*, Kvaser Leaf family, Kvaser Memorator Pro**, Kvaser USBcan Pro and VirtualCAN. For LAPcan and LAPcan II, you should use version 4.2 of the driver. (*) only with USBcanII functionality, (**) only with USBcan Pro functionality
Version V5.38.841
Kvaser DIADEM Driver
This free driver for National Instrument's DIAdem supports all CAN hardware from Kvaser.
Version V4.1.0
Kvaser Drivers for Windows
Windows drivers for all our CAN hardware. Please check release notes for information on which Windows versions are supported. It also contain a driver for the virtual CAN bus.
Version V5.38.841
Kvaser Firmware Update Tool
Firmware Update tool for most Kvaser devices.
Version V4.27.841
Linux SDK Library
Linux SDK library.
Version V5.38.841
Python module
The Canlib module is a Python wrapper for Kvaser CANlib SDK.
Version V1.20.360
Kvaser LabView VI Library for CAN
Library for National Instrument's LabView. Version for all Kvaser CAN hardware.
Version V19.3.0
Kvaser CANlib SDK
Software development kit - everything you need to develop software for the Kvaser CAN and LIN interfaces. Libraries, header files, sample programs for e.g. C, C++, C#, Visual Basic and Delphi, documentation, and more. Note: you need to download and install the appropriate device drivers separately.
Version V5.38.841
Kvaser Database Editor 3
Kvaser Database Editor 3 (candbfd).
Version V3.17.841
Kvaser Memorator Configuration tool
Configuration tool for Kvaser Memorator Pro 5xHS, Kvaser Memorator 2xHS v2, Kvaser Memorator Light HS v2 and Kvaser Eagle
Version V5.28.841
Kvaser CANKing
A free of charge, general-purpose CAN bus monitor. It works with all CAN interfaces from Kvaser and also with the virtual CAN bus.
Version V6.21.288
The Kvaser Memorator Pro 2xHS v2 is a professional-grade, dual-channel CAN (Controller Area Network) bus interface and stand-alone data logger. It is the newest addition to the popular family of CA...