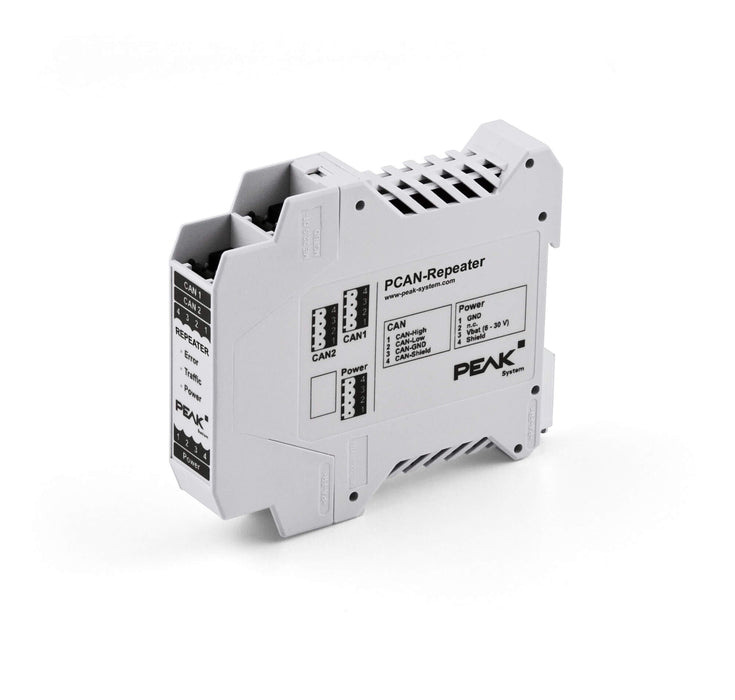 The PCAN-Repeater made by PEAK System Technik creates a connection between two high-speed CAN busses with galvanic isolation of up to 5 kV. Each CAN channel is decoupled from the other and from the power supply. CAN messages are forwarded 1:1 between the two channels and may be forwarded uni-directionally if required. The current bus status is displayed by means of LEDs. With its extended temperature range support and DIN rail housing, this CAN Repeater is suitable for use in an industrial environment.
Two High-speed CAN channels (ISO 11898-2)
Galvanic isolation rated up to 5 kV according to IEC60601-1, between both CAN channels and between CAN and power supply
Bit rates up to 1 Mbit/s
NXP PCA82C251 CAN transceiver
LEDs display CAN bus load and CAN errors
Each CAN channel can be selectively terminated
Listen-only mode for CAN channel 1 or CAN channel 2 can be switched selectively
Plastic casing (width: 22.5 mm) for mounting on a DIN rail
3 mating connectors for power supply and CAN connections
Extended operating temperature range from -40 to 85°C (-40 to 185°F)
Please note
Due to the CAN protocol, the maximum length of a CAN bus depends on the bit rate. Therefore, a bus cannot be extended with the PCAN-Repeater.
The physical total length of the CAN bus is reduced with each built-in PCAN-Repeater according to its signal delay.
| | |
| --- | --- |
| Indicators (LED) | Status, Bus Load |
| Baud Rate | Up to 1 Mbp/s |
| Certifications | ISO 11898-2 |
| Enclosure | Plastic DIN rail |
| Transceiver | CAN: NXP PCA82C251 |
| Isolation | 5kV Isolation |
| Operating Temperature | -40°C to +85°C |