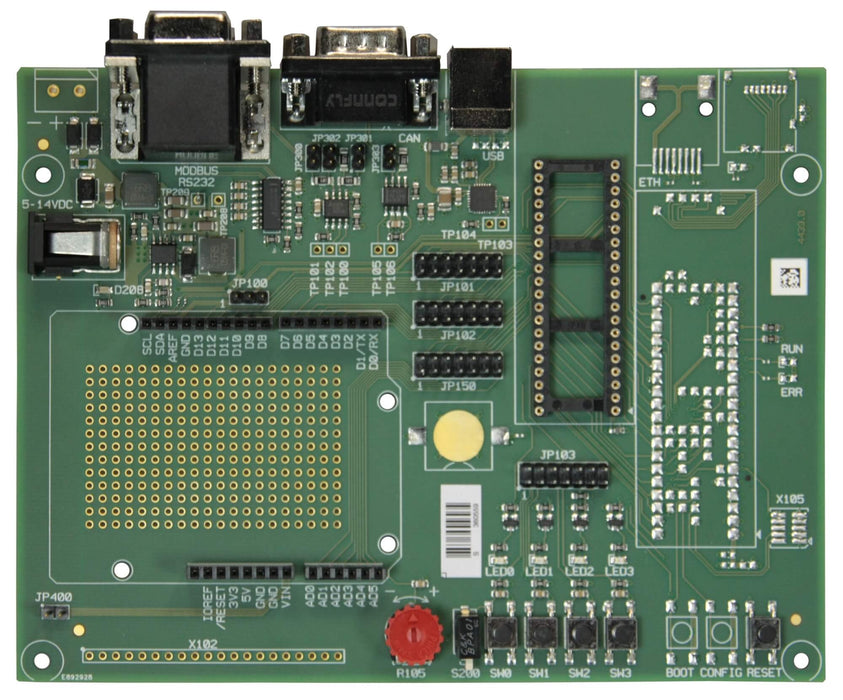 Development Kit sysWORXX CTR-100
SKU #:
SYS-KIT-175, SYS-KIT-176
Save

Liquid error (snippets/product-badge line 47): Computation results in '-Infinity'

%
The new SYS TEC Development Kit IoT-Chip sysWORXX CTR-100 provides the embedded development engineer with a complete platform to create Internet of Things/Industry 4.0 applications and to connect devices/machines to the cloud as these fields require. Like every of our devices the sysWORXX CTR-100 IoTChip is prepared for the direct connection to Cloud. Due to the partnership with IBM we make your devices ready for IoT.
The benefits of the SYS TEC electronic sysWORXX CTR-100 lie in its use, security and cloud connection. On the chip are libraries and protocols such as MQTT, Modbus or CANopen which are ready to use immediately. The templates supplied in the source code are available to users as a starting point for their own customization. I²C and SPI make it possible to directly connect actuators and sensors.
This allows the entire measurement, control and regulation to be handled on the IoT chip. As a result, the chip works independently of the cloud. There is no additional gateway required for cloud connection.
The Development Kit sysWORXX CTR-100 DIL40 ensures quick and problem-free commissioning of the IoT-Chip. Therefore, it combines all hardware and software components that are necessary to create own applications: the core module IoT-Chip DIL40, the corresponding Development Board containing I/O periphery and numerous interfaces, the OpenPCS IEC61131 programming system as well as further accessory. Thus, the Development Kit forms the ideal platform for developing user-specific applications based on the IoT-Chip. It allows a cost-efficient introduction into the world of sensor2cloud communication and data preprocessing. All components included in the Kit enable input and output extensions of IoT-Chip through CANopen-I/O-assemblies. Thus, the Development Kit may also be used for projects that require PLC with network connection. The Development Kit IoT-Chip DIL40 contains the following hardware components:
IoT-Chip (DIL40 connector)
Development Board for the IoT-Chip
The Development Board included in the Kit facilitates quick commissioning of the IoT-Chip and simplifies the design of prototypes for user-specific applications based on this module. Among other equipment, the Development Board comprises different power supply possibilities, one CAN interface, 4 push buttons and 4 LED as control elements for digital in-and outputs and it comprises a potentiometer for the analog input. Signals that are available from pins of the IoT-Chip are linked to the baseboard and enable easy connection of own peripheral circuitry. Hence, the Development Board forms an ideal experimentation and testing platform for the IoT-Chip. The operating temperature should lie between 0°C and 70°C.
Carrier Board for IoT Chip:
DIL-40 socket for IoT Chip
Connectors for Ethernet, USB, CAN, Modbus, RS-232 and external power supply
4 push buttons for digital input simulation
4 LEDs for digital testing
One potentiometer for analog input test
Run and Error LED for PLC status display
Connectors for Arduino Shields
IoT-Chip SE:
STM32F767 / ARM 32-bit Cortex™-M7 core
One 10/100Mbps Ethernet interface, on-board PHY + RJ45 connector
Communication interfaces: 1* CAN, 3* UART, 1* SPI, 1* I2C
I/Os: 2* AOUT, 4* AIN, 2* PWM, up to 13* DOUT, up to 15* DIN
Connector/Package types: DIL-40 or LGA
Power supply: 3.3V (+/- 5%)
Temp. Range: 0ºC … +70ºC
Programmable in: IEC 61131-3