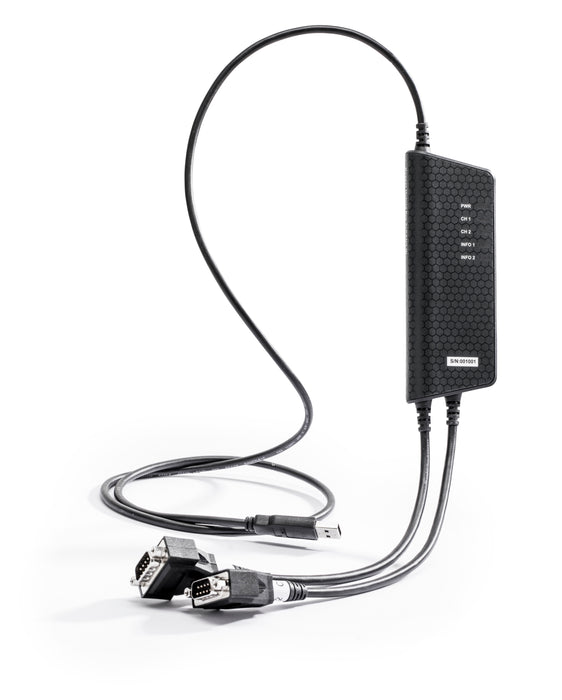 Kvaser Hybrid Pro 2xCAN/LIN
Kvaser Hybrid Pro 2xCAN/LIN is a flexible, dual channel interface that allows each channel to be assigned independently as CAN, CAN FD or LIN. This makes the Kvaser Hybrid Pro 2xCAN/LIN a must-have 'universal interface' for every engineer involved in automotive communications.
The Kvaser Hybrid Pro 2xCAN/LIN offers advanced features such as support for CAN FD, Silent Mode, Single Shot, Error Frame Generation and Kvaser MagiSync automatic clock synchronization. As a Pro-level device, this interface can host user-developed programs, created using resources provided within Kvaser's free CANlib SDK. These can be designed to accomplish a range of advanced tasks, such as CAN node simulation and CAN flashing, or create a LIN to CAN gateway. Guidance and code examples are provided.
An essential tool for automotive engineers, CAN and LIN can now be configured using a single tool. Easy access, from climate control to calibration, using one device. This compact, high-performance interface uses a standard USB connector and two high-speed CAN, CAN FD or LIN channels in separate 9-pin D-SUB CAN connectors. Each channel can be configured for either CAN or LIN, allowing multiple configurations tailored to your needs.
Hybrid USB CAN/LIN two channel interface with two separate 9-pin D-SUBS
t programsallow users to customize the Hybrid Pro 2xCAN/LIN's behavior
Supports CAN FD, up to 5 Mbit/s (with proper physical layer)
Supports High-Speed CAN (ISO 11898-2) up to 1Mbit/s and LIN 2.2A (ISO 17987 Part 1-7) up to 20 kbit/s
Capable of sending up to 20000 messages per second, per CAN channel, timestamped with a 1 μs accuracy
USB-powered (bus V+ reference required for LIN)
Kvaser MagiSync – automatic time synchronization between MagiSync-enabled Kvaser interfaces connected to the same PC
Single-shot function ensures that failed transmissions will not retry.
Error frame generation and error counters
LED lights indicate device status
Fully compatible with J1939, CANopen, NMEA 2000 and DeviceNet
Supplied with Kvaser CANlib and Kvaser LINlib, free software APIs that are common to all Kvaser hardware and enable the channels to be configured intuitively and fast
Extended operating temperature range from -40°C to 85°C
Property
Value
The information herein is subject to change without notice.
Galvanic Isolation
Yes
Bitrate
50-1000 kbit/s (CAN); 1-20 kBit/s (LIN)
Silent mode
Yes
Error frame generation
Yes
Error frame detection
Yes
Weight
170 g
Timestamp resolution
1 μs
Kvaser MagiSync
Yes
Maximum message rate, send
20,000
Maximum message rate, receive
20,000
Sound
No
Clock synchronization
N/A
Dimensions (WxLxH)
50x170x20 mm (body incl. strain relief)
Kvaser SocketCAN Device Drivers
Kvaser SocketCAN Drivers for Linux.
Version V1.10.477
Kvaser Linux Driver and SDK
Linux driver and SDK for Kvaser PCIcan/PCIcanx, Kvaser PCIcanII, Kvaser PC104+, Kvaser PCIcanx II, Kvaser USBcan II, Kvaser Memorator*, Kvaser Leaf family, Kvaser Memorator Pro**, Kvaser USBcan Pro and VirtualCAN. For LAPcan and LAPcan II, you should use version 4.2 of the driver. (*) only with USBcanII functionality, (**) only with USBcan Pro functionality
Version V5.38.841
Kvaser Drivers for Windows
Windows drivers for all our CAN hardware. Please check release notes for information on which Windows versions are supported. It also contain a driver for the virtual CAN bus.
Version V5.38.841
Kvaser Firmware Update Tool
Firmware Update tool for most Kvaser devices.
Version V4.27.841
Kvaser Canlib Android Library
Kvaser CANlib Android Library
Version V1.2.0
Python module
The Canlib module is a Python wrapper for Kvaser CANlib SDK.
Version V1.20.360
Kvaser CANlib SDK
Software development kit - everything you need to develop software for the Kvaser CAN and LIN interfaces. Libraries, header files, sample programs for e.g. C, C++, C#, Visual Basic and Delphi, documentation, and more. Note: you need to download and install the appropriate device drivers separately.
Version V5.38.841
XTM, Free LIN Viewer
A free of charge LIN bus viewer. This demo version only operates in slave mode and only monitors the LIN bus. Works with Kvaser Leaf Professional LIN and Hybrid family of products.
Version V3.8.36
Kvaser CANKing
A free of charge, general-purpose CAN bus monitor. It works with all CAN interfaces from Kvaser and also with the virtual CAN bus.
Version V6.21.288