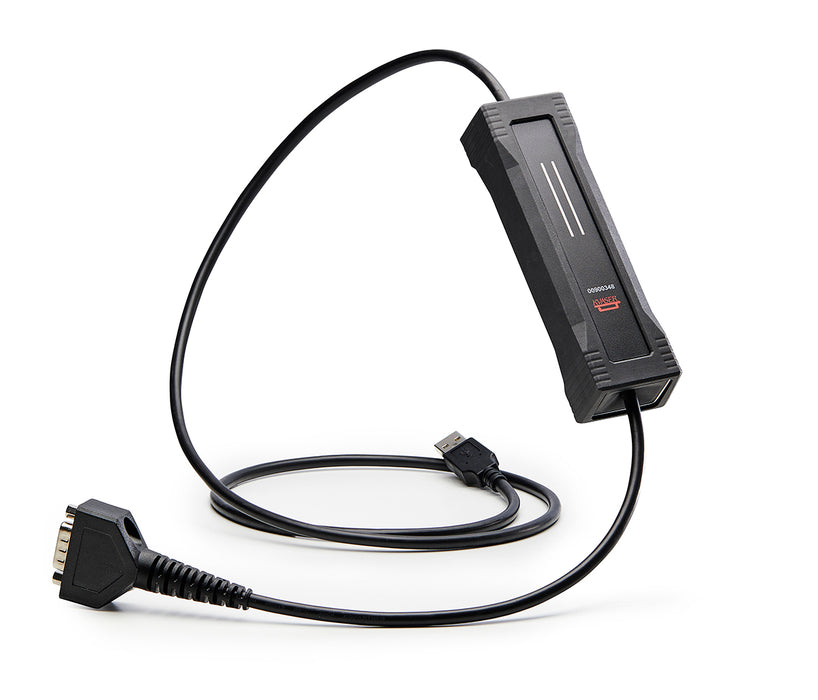 The Kvaser U100P is the Precision version of Kvaser's U100 range of CAN to USB interfaces. The Kvaser U100P delivers advanced features for engineers working in system development and difficult troubleshooting situations. Get more precise timestamping, synced time measurements across multiple devices, and listen to the CANbus in silent mode.
Major Features
Supports CAN FD, up to 8 Mbit/s (with correct physical layer implementation).
Supports both 11-bit (CAN 2.0A) and 29-bit (CAN 2.0B active) identifiers.
Supports silent mode for analysis tools – listen to the bus without interfering.
Reinforced galvanic isolation, design validated with 5000 VAC rms applied for 60 s.
20 000 msg/s, timestamped with a resolution of 1 μs.
Kvaser MagiSync™ – automatic time synchronization.
Industrial grade temperature range, −40 oC to +85 oC.
Powered through the USB connector.
Supports bit rates from 10 Kbit/sec up to 1 Mbit/sec.
Lightweight, glass fibre reinforced polyamide housing, overmolded with TPE.
IP67 rated.
DB-9 connector (other connectors available).
Intuitive LED UI.
Support for SocketCAN.
Compatible with J1939, CANopen, NMEA 2000® and DeviceNet.
Fully compatible with applications written for other Kvaser CAN hardware with Kvaser CANlib.
Software
Documentation, software and drivers can be downloaded for free at www.kvaser.com/downloads.
Kvaser CANLIB SDK is a free resource that includes everything you need to develop software for the Kvaser CAN interfaces. Includes full documentation and many program samples, written in C, C++, C#, Delphi, and Visual Basic.
All Kvaser CAN interface boards share a common software API. Programs written for one interface type will run without modifications on the other interface types!
J2534 Application Programming Interface available.
RP1210A Application Programming Interface available.
On-line documentation in Windows HTML-Help and Adobe Acrobat format.
Property
Value
The information herein is subject to change without notice.
Bitrate
10-1000 kbps
CAN FD Bitrate
Up to 8 Mbit/s
Categories
CABLES, Interfaces, Hardware, CAN
Certificate
CE, RoHS
Channels
1
Connectors
DSUB 9
Current Consumption
Typical 250 mA
Error Counters Reading
Yes
Error Frame Generation
Yes
Galvanic Isolation
Yes
Height
26 mm
Interfaces
USB
Length
128 mm
Material
2K, TPE surface on top of glass fibre reinforced polyamide
Messages Per Second Received
20000 mps
Messages Per Second Sending
20000 mps
OS
Linux, Win 7, Win 10, Win 8
Silent Mode
Yes
Sound
No
Temp Range
-40 °C to +85 °C
Timestamp Resolution (µs)
1 µs
Weight
170 g
Kvaser SocketCAN Device Drivers
Version V1.9.322
Kvaser SocketCAN Drivers for Linux
Kvaser Linux Drivers and SDK
Version V5.37.686
Linux drivers and SDK for most Kvaser devices.
Kvaser Drivers for Windows
Version V5.37.686
Windows drivers for all our CAN hardware. Please check the release notes for information on which Windows versions are supported. The package also contains a driver for a virtual CAN bus, for testing and evaluation when you don't have access to a physical CAN bus.
Kvaser Firmware Update Tool
Version V4.26.686
Firmware Update tool for most Kvaser devices.
Python module
Version V1.19.205
The Canlib module is a Python wrapper for Kvaser CANlib SDK.
Kvaser LabView VI Library for CAN
Version V19.3.0
Library for National Instrument's LabView. Version for all Kvaser CAN hardware.
Kvaser CANlib SDK
Version V5.37.686
Software development kit - everything you need to develop software for the Kvaser CAN and LIN interfaces. Libraries, header files, sample programs for e.g. C, C++, C#, Visual Basic and Delphi, documentation, and more. Note: you need to download and install the appropriate device drivers separately.
Kvaser CANKing
Version V6.20.210
A free of charge, general-purpose CAN bus monitor. It works with all CAN interfaces from Kvaser and also with the virtual CAN bus.