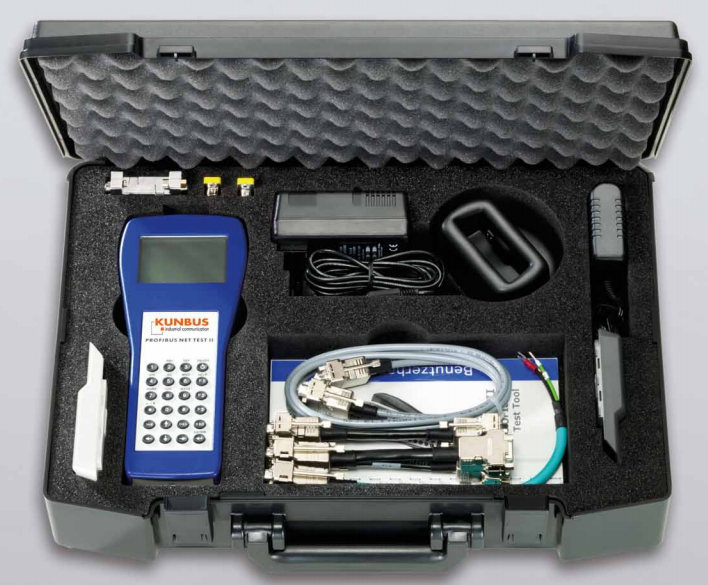 NetTEST II
KU-PR100140
Product is no longer available.
Handheld Diagnostic Tools for PROFIBUS DP

Product no longer available/EOL.
The NetTEST II diagnostic device from Kunbus is an essential analysis and test tool for the successful operation, maintenance and service of any PROFIBUS DP network. This compact handheld diagnostics tool sets a new standard in the field of analysis and test tools by detecting all common bus installation errors. Using the optional DP-Mono Master functionality, the NetTEST II becomes an outstanding tool for the mobile commissioning of DP Slaves. An entire PROFIBUS network can be started up and tested without the need for a PLC to be present. When used with the optional Online Functionality, the NetTEST II can be used to detect sporadic errors in any running PROFIBUS system. All requirements of state-of-the-art quality management systems are met by the automatic generation and filing of detailed test records .


Delivery contents:
NetTEST II Basic System + DP-Mono-Master + Online Functionality in service case, incl. 2 batteries, international battery charger, power supply adapter, RS232-cable, PROFIBUS stub line, PROFIBUS T-connector, bus disconnector, 3 gender changers, PROFIBUS configurator, user manuals
Easy-to-use hand-held tool
Detection of installation errors, short circuits, line or shielding interruptions (even on the very end of the cable)
Measurement of cycle time, signal levels, telegram repetitions and error telegrams, automatic baud rate scan, generation of bus statistics, detection of sporadically failing DP Slaves
Detailed test record (up to 20 test reports can be stored and printed on a standard PC without any additional software )
Generation of a check sum to control if the test report is manipulated
DP Mono Master functionality: The I/O data of the connected DP Slaves can be vizualised and modified without PLC
Online functionality: live list, signal level measurement, Cycle time of the DP network, level display of each DP Slave, event triggering in the DP network
| | |
| --- | --- |
| Power Supply | Battery pack 4.8V/1.500 mAh NiMh |
| Connections | PROFIBUS RS485 (DB9 socket connector) |
| | RS232 (DB9 socket connector) |
| Dimensions | 230 x 98 x 53 mm (LxWxH) |