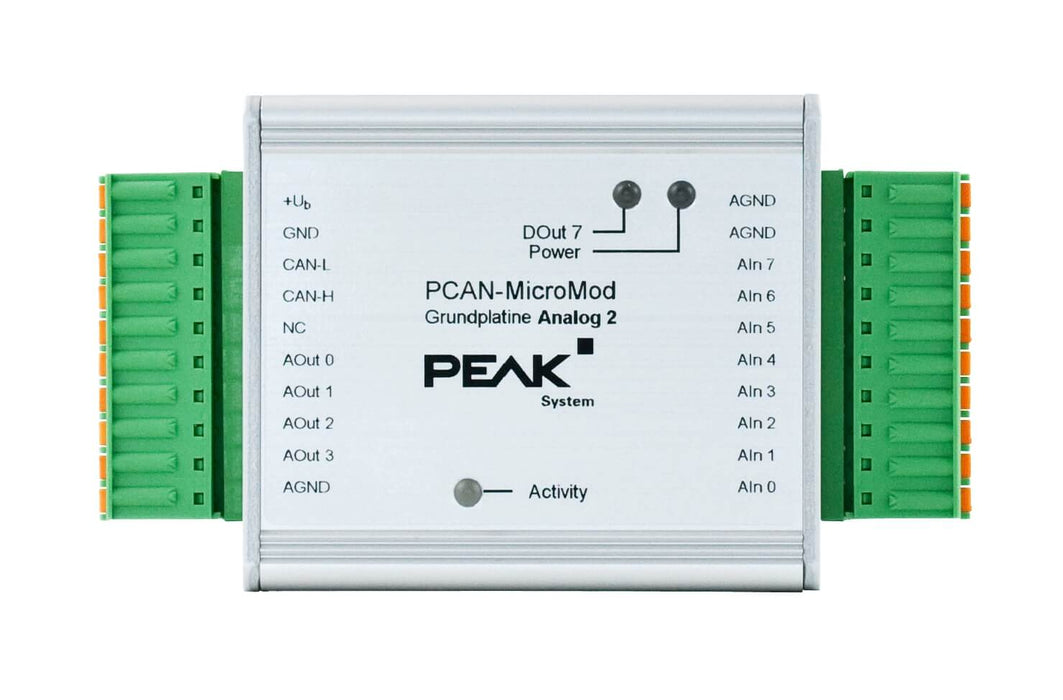 PCAN-MicroMod Analog 2
Save

Liquid error (snippets/product-badge line 47): Computation results in '-Infinity'

%
The motherboards for the PCAN-MicroMod provide an application-oriented environment. Typical characteristics of this product group include a wide supply voltage range and the protective circuit for the inputs and outputs. CANopen® firmware is available for all PCAN-MicroMod motherboards. The motherboards Analog 1 & 2 support general analog requirements.
Completely configurable using the Windows® software PCAN-MicroMod Configuration
Software low pass filter can be adjusted by means of configuration (1 - 1000 ms)
Communication through high-speed CAN
Operating voltage 11 - 30 V
Aluminum casing with spring terminal connectors. Optional DIN rail fixing option available
Extended operating temperature range from -40 to 85 °C (-40 to 185°F)
8 analog inputs with the following properties:
Bipolar measurement range +/-10 V
Resolution 16 bit
Sample rate depends on the number of used cahnnels (2 kHz/n)
Protection against under- and overvoltages
4 analog outputs with the following properties:
Voltage range 0 - 10 V (based on 12-bit DAC)
Output current 20 mA per channel
Short-circuit protection
Power Supply
Operating voltage: 11 - 30 V DC (±5 %), 8 - 30 V w/o AOut
Current consumption: max. 200 mA
Ripple 5 V: < 50 mV (Ub = 12 V, 200 mA load)
Ripple analog: < 20 mV
Reverse-polarity protection: extant; can get ineffective by the wiring with other CAN nodes (danger of destruction of electronic components)
Analog Inputs
Count: 8
Measuring range: -10 - +10 V, other measuring range on request
Resolution: 16 bit, 0.3125 mV/digit
Source impedance: < 500 kΩ
Overvoltage protection: extant
Low-pass time constant τ: Hardware: 1 ms, Software: 1 - 1000 ms (optional by configuration)
Analog outputs
Count: 4
Type: DAC-based
Voltage range: 0 - 10 V
Resolution: 12 bit
Current output: 20 mA
Short circuit protection: extant
CAN
Transmission standard: High-speed CAN ISO 11898-2, typ. 500 kbit/s, setup with PCAN-MicroMod Configuration (Windows software)
Termination: none
CAN ID reserved for configuration transfer: 0x7E7
Module number at delivery (for configuration transfer): 0
Peculiarity Interference Immunity
Tests: compliant to IEC 61000 and DIN EN 61326
Surge: ±500 V (specification industrial sector: ±1 kV) [see User's Manual for more details]
Line-conducted HF compatibility: 10 Veff (specification: 3 Veff)
Dimensions
55 x 68 x 24 mm, see User's Manual for more details - Casing size (incl.connectors)
Weight
108 g
Operating temperature
-40 - +85 °C (-40 - +185 °F)
Storage temperature
-40 - +100 °C (-40 - +212 °F)
Relative humidity
15% to 90% (non-condensing)
Ingress protection (IEC 60529)
IP20
EMC
DIN EN 61326-1:2008-06, EC directive 2004/108/EG
PCAN-MicroMod package
Package for PCAN-MicroMod, PCAN-MicroMod Evaluation board, and the PCAN-MicroMod motherboards. The package includes the configuration software PCAN-MicroMod Configuration, the latest PCAN-MicroMod and the CANopen® firmware, all files for development, and documentation (German and English).
PCAN-MicroMod Configuration
Configuration software for PCAN-MicroMod products for Windows® 11 (64-bit), 10 (32/64-bit).
PEAK-Flash
Easy-to-use tool for updating the firmware of PEAK-System hardware products as well as CAN and LIN adapters for Windows® 11 (64-bit), 10 (32/64-bit).
PCAN-Flash (outdated)
Windows® software for updating firmware via CAN. The development on PCAN-Flash is no longer continued. Please use PEAK-Flash instead.