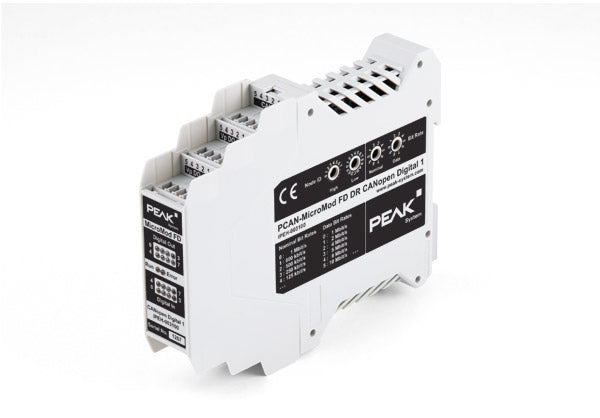 PCAN-MicroMod FD DR CANopen Digital 1
Save

Liquid error (snippets/product-badge line 47): Computation results in '-Infinity'

%
Industrial CANopen and CANopen FD Module for Digital I/O Applications
The PCAN-MicroMod FD DR CANopen Digital 1 is an I/O module for operation in CANopen® and CANopen FD® networks. The modern standard CANopen FD® makes it possible to handle the ever-increasing demand for data transmission from sensors, machines, and complex production plants. The module has a CAN FD interface as well as 8 digital inputs and 8 digital outputs. With its DIN rail casing and the support of the extended temperature range, the module is suitable for use in an industrial environment.
The node ID and bit rates are set via rotary switches. Thus, no configuration software is required for putting the device in operation. Due to the support of the CANopen® and CANopen FD® standards, a problem-free use in existing networks is guaranteed.
The PCAN-MicroMod FD DR CANopen Digital 1 was developed in cooperation with our partner Embedded Systems Academy, specialized in CANopen®.
Note: The CANopen conformity has been tested and certified by the CAN in Automation (CiA®) association. The device conformity test and certification for CANopen FD® is pending.
MicroMod FD:
I/O module for CANopen® and CANopen FD®

Communication profiles according to CiA® 301 version 4.2.0 and CiA® 1301 version 1.0.0
Device profile according to CiA® 401 version 3.0.0

High-speed CAN connection (ISO 11898-2)

Selectable CANopen bit rates:
Nominal: 20, 50, 125, 250, 500, 800, and 1000 kbit/s
Selectable CANopen FD bit rates:
Nominal: 250, 500, 800, and 1000 kbit/s
Data: 1, 2, 4, 5, 8, and 10 Mbit/s
NXP TJA1044GT CAN transceiver
Galvanic isolation against the power supply up to 500 V

Configuration of the CAN and CAN FD bit rates as well as the node ID with rotary switches on the casing
2 LEDs "RUN" and "ERROR" for status indication according to CiA® DR 303-3
8 digital inputs

Comply with the IEC 61131-2 standard
Input characteristics: Type 3
2 groups of 4 inputs to be used either as sourcing or sinking inputs
Galvanic isolation of the digital inputs 0 to 3 and 4 to 7 each up to 100 V against the module supply

8 digital outputs

500 mA load per High-side output
Thermal protection per output
Short circuit detection per output
Open load detection in on-state and off-state per output

LEDs for status indication of the digital inputs and outputs
Connections for CAN, I/O, and power supply via 5-pole screw-terminal strips (Phoenix)
Plastic casing (width: 22.5 mm) for mounting on a DIN rail (DIN EN 60715 TH35)
Voltage supply from 8 to 36 V
Extended operating temperature range from -40 to 85 °C (-40 to 185 °F)