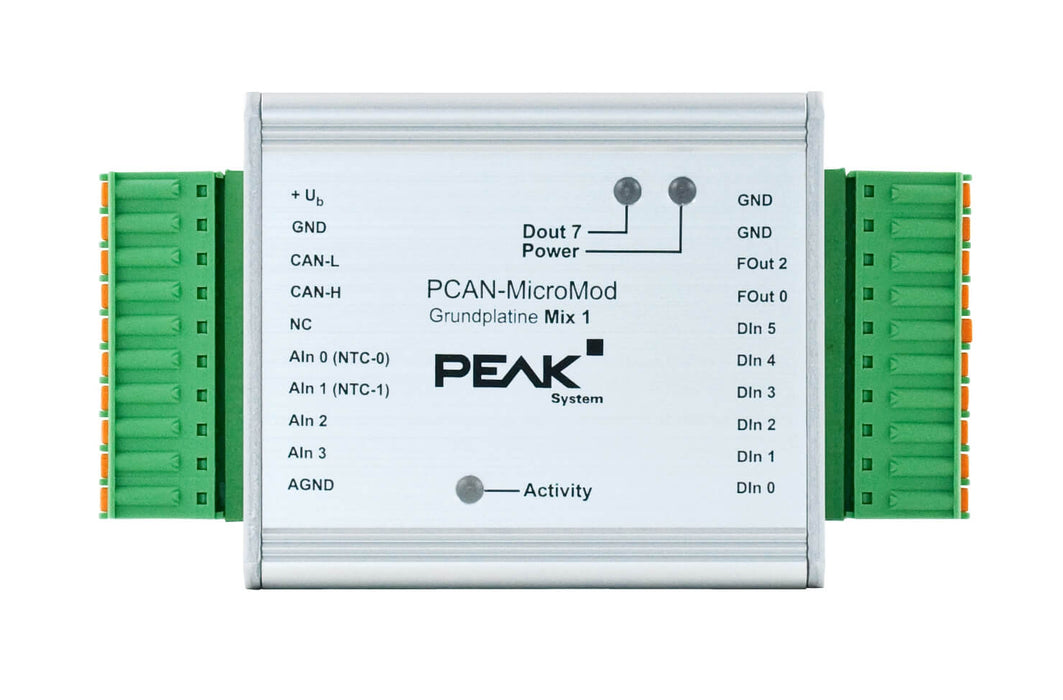 PCAN-MicroMod Mix 1 & 2
SKU #:
IPEH-002202, IPEH-002203
Save

Liquid error (snippets/product-badge line 47): Computation results in '-Infinity'

%
Application-specific PCAN-MicroMod Motherboards
The motherboards for the PCAN-MicroMod provide an application-oriented environment. Typical characteristics of this product group include a wide supply voltage range and the protective circuit for the inputs and outputs. CANopen®firmware is available for all PCAN-MicroMod motherboards.
The Mix 1 and Mix 2 motherboards combine general analog and digital requirements with temperature recording functions.
Requirements:
The configuration requires a PEAK CAN interface.
Specifications Mix 1
High-speed CAN connection (ISO 11898-2)


Bit rates from 10 kbit/s up to 1 Mbit/s
Compliant with CAN specifications 2.0A (11-bit ID) and 2.0B (29-bit ID)

Completely configurable using the Windows®

 

software PCAN-MicroMod Configuration
Operating voltage 8 to 26 V
Status LEDs for power supply and digital output
Aluminum casing with spring terminal connectors. Optional DIN rail fixing available
Extended operating temperature range from -40 to 85 °C (-40 to 185 °F)
2 analog inputs:


Measuring range unipolar 0 to 5 V
Resolution 10 bit, sample rate 1 kHz
Measuring range extension optional
Pull-down circuit
Protection against under- and overvoltages

2 temperature inputs:


2 connections for NTC resistors (type EC95F103W)
Measuring range 0 to 70 °C (32 to 158 °F)

6 digital inputs:


Pull-up or pull-down circuit selectable in groups (3 groups)
Schmitt trigger behavior, inverting
Threshold High = 4.8 V, Low = 1.2 V
Low-pass behavior
Parallel connection of frequency inputs at 4 digital inputs for alternative use (e.g. on rapid state changes, counting)

2 digital outputs/frequency outputs:


Fast Low-side switch, max. 55 V, 0.75 A
Short-circuit protection


Specifications Mix 2
High-speed CAN connection (ISO 11898-2)


Bit rates from 10 kbit/s up to 1 Mbit/s
Compliant with CAN specifications 2.0A (11-bit ID) and 2.0B (29-bit ID)

Completely configurable using the Windows®

 

software PCAN-MicroMod Configuration
Operating voltage 11 to 26 V
Status LEDs for power supply and digital output
Aluminum casing with spring terminal connectors. Optional DIN rail fixing available
Extended operating temperature range from -40 to 85 °C (-40 to 185 °F)
3 analog inputs:


Measuring range unipolar 0 to 4.1 V
Resolution 10 bit, sample rate 1 kHz
Measuring range extension optional
Pull-down circuit
Low-pass behavior
Protection against under- and overvoltages

1 analog voltage output:


Voltage 0 to 10 V (based on 16-bit PWM)
Load ability 15 mA, short-circuit proof

1 analog current output:


Current intensity 0 to 20 mA (based on 16-bit PWM)

2 digital inputs:


Pull-up or pull-down circuit selectable for both together (1 group)
Schmitt trigger behavior, inverting
Threshold High = 4.8 V, Low = 1.2 V
Low-pass behavior
Parallel connection of a frequency input each for alternative use (e.g. on rapid state changes, counting)

1 digital output:


Fast Low-side switch, max. 55 V, 0.75 A
Short-circuit protection

2 temperature inputs:


1 connection for a NTC resistor (type EC95F103W)
1 connection for a platinum sensor PT1000
Measuring range 0 to 70 °C (32 to 158 °F)
PCAN-MicroMod package
The package includes the configuration software PCAN-MicroMod Configuration for Windows®, the latest PCAN-MicroMod and the CANopen® firmware, all files for development, and documentation (German and English)
PCAN-MicroMod Configuration
PCAN-MicroMod Configuration software for Windows® 10, 8.1, 7 (32/64-bit)