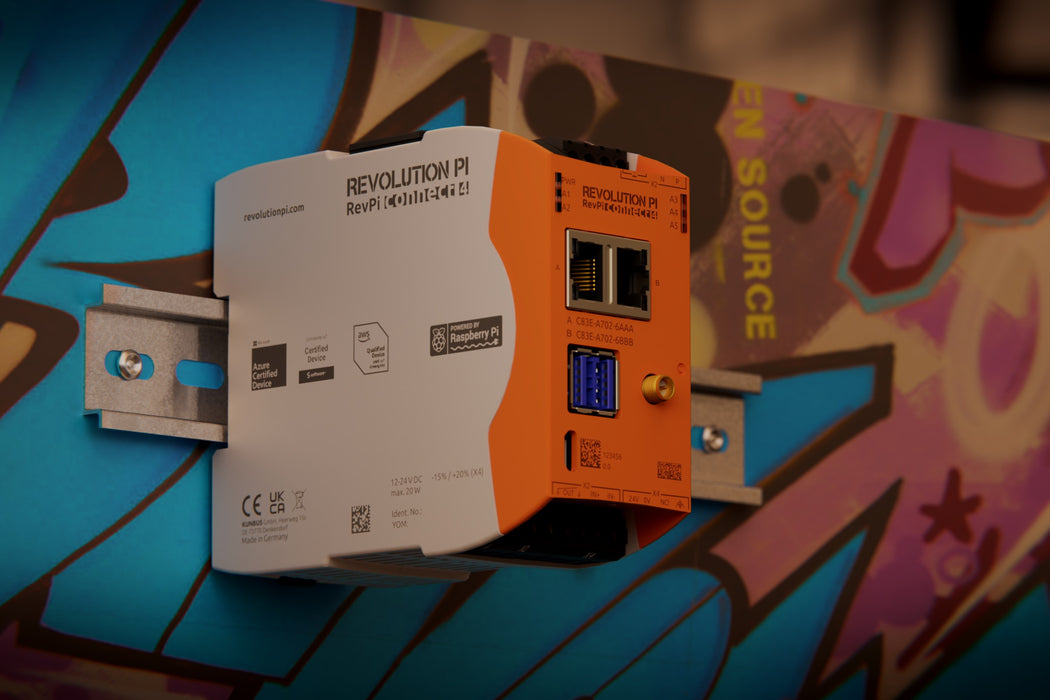 RevPi Connect 4
SKU #:
KU-PR100376, KU-PR100377, KU-PR100378, KU-PR100379, KU-PR100380
New
Save

Liquid error (snippets/product-badge line 47): Computation results in '-Infinity'

%
The brand new RevPi Connect 4 is a modular, open-source device based on the Raspberry Pi CM4, powered by a Broadcom BCM2711 processor. It has up to 32 GB eMMC memory, optional WLAN/Bluetooth, and can be expanded with up to ten I/O modules. It has multiple interfaces, an integrated RTC, hardware watchdog, and HAT EEPROM. The pre-installed Raspberry Pi OS is customized and supports Modbus RTU/TCP, MQTT, and OPC UA protocols. Custom app development is possible with Node-RED, Python, and C. The modular design allows for easy expansion with digital/analog I/Os, fieldbus gateways, and radio modules.
New features:
Faster processor (Broadcom BCM2711)
WLAN and Bluetooth support
Easier I/O expansion with plug-and-play GUI
Real-time clock (RTC) now battery-buffered
For a detailed comparison of the technical distinctions among the different RevPi Connect variants, please refer to this page.
Based on Raspberry Pi Compute Module 4 (CM4)
Processor: Broadcom BCM2711 a 64-bit quad-core Arm Cortex-A72
DIN rail housing for easy mounting in industrial environments
2 x RJ45 GBit Ethernet interfaces for high-speed connections
2 x USB 3.2 Gen1 interfaces
1 x RS485 interface
1 x Micro-HDMI interface for connecting a monitor or display
1 x Micro-USB port
1 x RP-SMA socket for connecting an external WLAN/BT antenna (2.4/ 5 GHz), not available on Article No. 100376 and 100378
2 x PiBridge (expandable with up to 10 I/O modules)
WLAN and Bluetooth connectivity via the internal antenna or optionally through an external antenna connected to the new SMA socket
HAT EEPROM for storing device information such as type, serial number, and MAC address
Real-time clock (RTC) stored by using an integrated battery
Hardware watchdog
Six RGB LEDs on the front panel (five individually programmable)
Pre-installed customized 64-Bit Raspberry Pi OS with real-time patch and process image
Default support for Modbus RTU and Modbus TCP with client and server functionalities
User-specific control and HMI software can be optionally used
Supports protocols like MQTT and OPC UA
Simplifies programming of custom applications with Node-RED, Python, and C
Housing dimensions (HxWxD)
96 x 45 x 110.5 mm
Housing type
DIN rail housing (for DIN rail version EN 50022)
Housing material
Polycarbonate
Weight
approx. 197 g / 224 g (incl. connectors)
IP Code
IP20
Power supply
10.8 ... 28.8 V DC
Max. power consumption
20 W (incl. 2 x 900 mA USB load)
Operating temperature
-25 °C to +55 °C
Storage temperature
-40 °C to +85 °C
Humidity (40 °C)
up to 93 % (non-condensing)
Interfaces
2 x USB A 3.2 Gen 1
2 x RJ45 10/100 Ethernet (using separate MAC addresses)
1 x RS485 screw-type terminal 
1 x Micro-USB (solely for image transfer to eMMC)
1 x Micro HDMI 2.0a (4K)
2 x PiBridge system bus

Connectors

3 x 4-pole screw-type terminals for RS485, power and relay contact /signal output


Processor
Broadcom BCM2711, quad-core Arm Cortex-A72
Clock rate
1.5 GHz
Processor cooling
Passive with heat sink
RAM
2 GB LPDDR4 (Article No.: 100376, 100377), 4 GB LPDDR4 (Article No.: 100378, 100379), 8 GB LPDDR4 (Article No.: 100380)
Flash memory
8 GB (Article No.: 100376, 100377), 32 GB (Article No.: 100378, 100379, 100380)
Number of digital input channels
1
Input Type
24 V control voltage (e.g. for power-good signal of a UPS)
Input Threshold
approx. 10 V DC (0 -> 1) resp. 7 V DC (1 -> 0); input current 2.4 mA (according to IEC 61131-2)
Number of digital output channels
1
Output type
opto-decoupled solid state relay, normally open, max. 30 V, 300 mA DC, any polarity
Software interface for input and output
Via GPIOs and process image. 
Hardware watchdog functionality
Watchdog in RTC device, freely configurable watchdog character device
Compatible modules for system expansion
All RevPi IO modules can be connected via the PiBridge system bus. Up to 5 modules can be connected on each side of the device.
EMC interference emission
according to IEC 61000-6-4 Emission standard for industrial environments
EMC immunity
according to IEC 61000-6-2 Immunity standard for industrial environments
RTC Buffer
CR2032 lithium battery, lifetime approx. 10 years
Optical indicator
6 status LEDs; 5 x red/green/blue, freely programmable, 1 x red/green
RoHS conformity
Yes
CE conformity
Yes