RevPi Core SE
SKU #:
KU-PR100365, KU-PR100366, KU-PR100367
New
Save

Liquid error (snippets/product-badge line 47): Computation results in '-Infinity'

%
Some variants are out of stock. Please email us for current availability.
A Robust Open Source IPC Based on Raspberry Pi  
The new RevPi S and SE series are based on the brand-new Raspberry Pi Compute Module 4S. The series are an intermediate step between the RevPi Core 3+ series and the RevPi Core 4 series. 
The quad-core RevPi Core SE comes equipped with the Raspberry Pi Compute Module 4S for the ultimate in high performance for complex tasks such as image processing. RevPi Core SE comes equipped with an adapted Raspbian Jessie with an RT patch. In addition to quadrupling the number of CPUs (Broadcom BCM2711), improvements to this latest version include 1 GB of RAM and 1.5 GHz clock rate, and 8 or 32 GB of eMMC flash memory.
Consisting of open hardware and software, the RevPi Core SE IPC meets the EN61131-2 standard. Its modular design allows for it to be enhanced with digital and analogue I/O modules as well as appropriate fieldbus gateways. Mounted in a DIN rail housing, the RevPi Core SE has USB, ethernet and HDMI ports, and runs on the standard industrial 24-volt power supply.
Review the UL Certificate.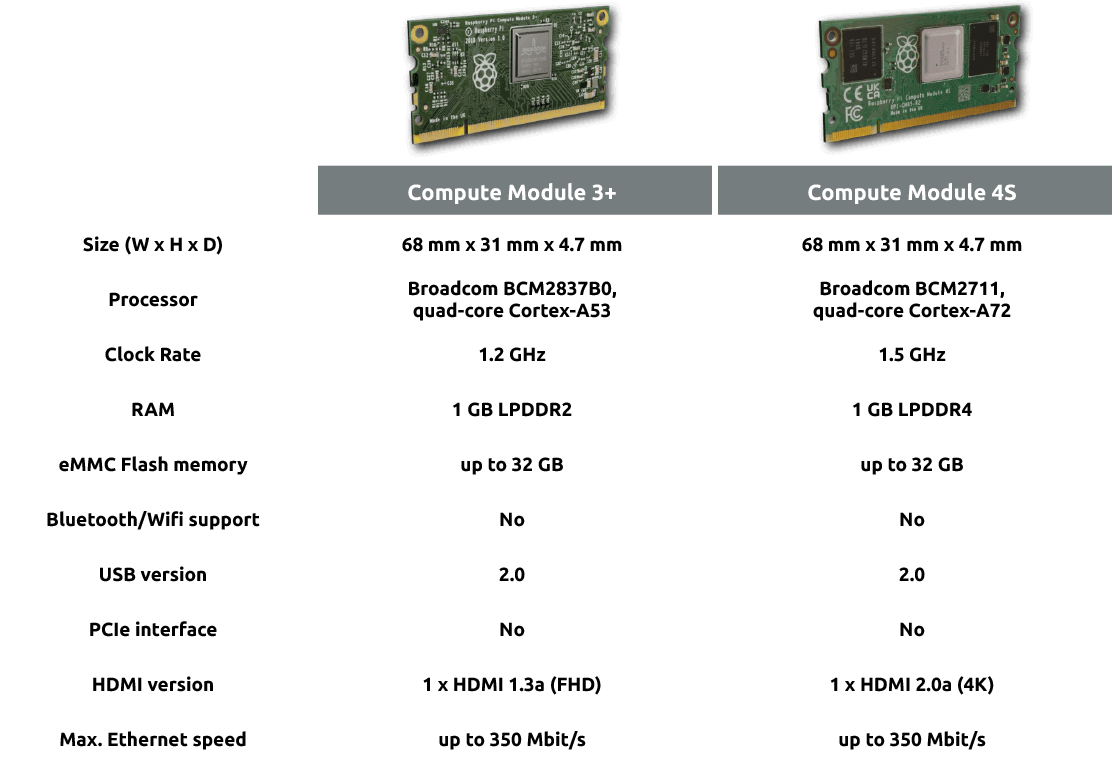 Housing dimensions (HxWxD)
96 x 22.5 x 110.5 mm
Housing type
DIN rail housing (for DIN rail version EN 50022)
Housing material
Polycarbonate
Weight
approx. 115 g
Protection class
IP20
Power supply
12-24 V DC -15 % / +20 %, reverse polarity protected 1
Max. power consumption
10 W (incl. 900 mA total USB load) 2
Operating temperature
-25 °C to +55 °C
Storage temperature
-40 °C to +85 °C
Humidity (40 °C)
up to 93 % (non-condensing)
Interfaces
2 x USB A (Total current consumption from both sockets max. 900 mA) 2
1 x RJ45 10/100 Ethernet
1 x Micro-USB (solely for image transfer to eMMC)
1 x Micro HDMI 2.0a (4K)
2 x PiBridge system bus

Connectors
1 x 4-pole screw-type terminal for power supply
Processor
Broadcom BCM2711, quad-core Arm Cortex-A72
Clock rate
1.5 GHz
Processor cooling
Passive with heat sink
RAM
1 GB LPDDR4
Flash memory
8 GB (article no.: 100365) / 16 GB (article no.: 100366) / 32 GB (article no.: 100367)
Compatible modules for system expansion
All RevPi IO modules modules can be connected via the PiBridge system bus.
! Not compatible with RevPi Gateways !
ESD protection
4 kV / 8 kV (according to EN 61131-2 and IEC 61000-6-2)
EMI tests
Passed (according to EN 61131-2 and IEC 61000-6-2)
Surge / Burst tests
Passed (according to EN 61131-2 and IEC 61000-6-2)
Buffer time RTC
min. 24 h
Optical indicator
3 status LEDs (bi-color), two of them freely programmable
Conformity
CE, RoHS
UL certification
Yes, UL-File-No. E494534
Note: The device may only be supplied from circuits that comply with Class 2 or Safety Extra Low Voltage (SELV) according to Class 9.4 of UL 61010-1.