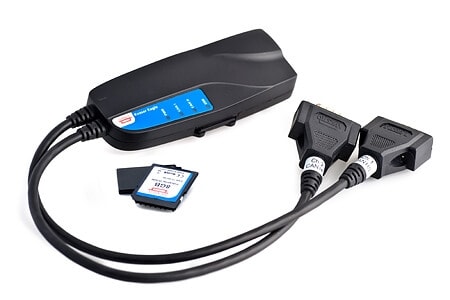 Kvaser Eagle (incl. 8 Gbyte SD-memory)
Save

Liquid error (snippets/product-badge line 47): Computation results in '-Infinity'

%
This product is EOL effective 4/30/17. The replacement model is the Kvaser Memorator Pro 2xHS v2with CAN FD and t Scripting support.
The Kvaser Eagle is a sophisticated and flexible dual-channel CAN to USB interface and high-speed datalogger. The device can run user-developed scripts which allows it to be used in a wide range of CAN bus applications. Data recorded from the CAN bus are stored on a standard SD flash card.
Kvaser Eagle offers more advanced logging and statistics collection capabilities than the Kvaser Memorator Professional and most other CAN interface products on the market. Signal triggered data can be collected and periodic information gathering over a much longer period of time can be performed as well. Direct access for configuring bit rates, trigger conditions and filters using Kvaser's CANlib software or the Kvaser Eagle's own software tool is possible by connecting the datalogger to a PC. User-specific scripts can be encrypted for intellectual property protection.
Kvaser Eagle's script functionality, allowing users to develop highly customised t-script applications written in the Kvaser t programming language
Encryption of scripts to protect intellectual property
Plug and play installation, and a comprehensive user guide to help make t script development quick and easy
Three built-in microprocessors (MCUs) that ensure real-time CAN bus performance. One MCU is used to handle each CAN channel and another MCU handles the script, ensuring that Eagle can also handle very large and complex scripts
200MHz processor performance with minimal current consumption
Large on-board RAM buffer for CAN messages and flashing LED light to alert the user to the buffer being overrun
Higher level protocols such as ISO 15765 and J1939 can be implemented in t-script. Working sample code for ISO 15765-2 is already included
| | |
| --- | --- |
| Galvanic Isolation | Yes |
| Bitrate | 50-1000 kbit/s |
| Silent mode | Yes |
| Error frame generation | Yes |
| Error frame detection | Yes |
| Weight | 150 grams |
| Timestamp resolution | 1 |
| On board buffer | Yes |
| Maximum message rate, send | 20000 |
| Maximum message rate, receive | 20000 |
| Sound | No |
| Clock synchronization | N/A |
| Dimensions (WxLxH) | 50x90x25 mm (2.0x3.5x1.0in.) |
Kvaser DIADEM Driver
This free driver for National Instrument's DIAdem supports all CAN hardware from Kvaser.
Version 1.0.0
Kvaser Drivers for Windows
Windows drivers for all our CAN hardware. Please check release notes for information on which Windows versions are supported. It also contain a driver for the virtual CAN bus.
Version 5.6.0
Firmware for Eagle and Blackbird V3
Firmware for Kvaser Eagle
Version 2.2.715
Kvaser CANKing
A free of charge general-purpose CAN bus momnitor. Works with all CAN interfaces from Kvaser. Windows 200 and later recommended.
Version 5.3.889
Kvaser CANlib SDK
Software development kit - everything you need to develop software for the Kvaser CAN and LIN interfaces. Link libraries, header files, sample programs, Microsoft Visual Basic and Borland Delphi components, documentation, and more. Note: you need to download and install the appropriate device drivers separately
Version 5.6.0
Kvaser LabView VI Library for CAN
Library for National Instrument's LabView version for all Kvaser CAN hardware.
Version 6.1.0
Kvaser Memorator Tools
Logger setup and configuration program for Kvaser Memorator Professional, Kvaser Memorator and Kvaser Memorator Light.
Version 3.7.537
Kvaser Database Editor
Standalone installer for Kvaser Database Editor.
Version 2.4.109
Remove old drivers
Driver removal program. This program will remove the CAN driver (version 3.2 or older) from your computer. This is a version intended for those who have installed CANLIB 3.2 or older. Use it only if you need to remove an old version of the driver from your computer. Contact technical support if you have any questions.
Version 3.9c
Cleanup
Driver removal program. This program will remove the CAN driver (version 3.9 or older) from your computer. This program will not work with driver 4.0 or later. Use it only if you need to remove an old version of the driver from your computer.
Version 3.9c