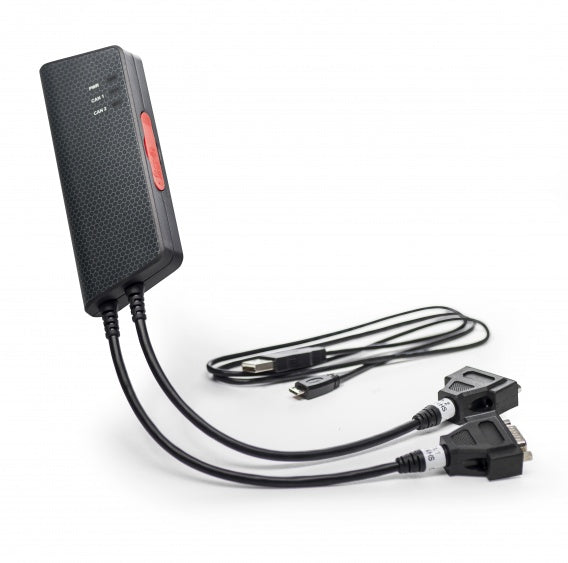 The Memorator 2xHS v2 is a compact, dual channel CAN bus interface and standalone data logger that allows users to monitor and collect data from two high speed CAN channels simultaneously. Standalone mode logs data to the included SD card; interface mode provides a real-time connection between the CAN network and a PC via USB.
In data logger mode, the Memorator makes an ideal flight recorder due to its compact design. Triggers and filters can be set up using the intuitive configuration program and stored on the standard SD card.
The Memorator 2xHS v2 is an intermediate-level device. For an e more basic single channel data logger without pre-configuration requirements, consider the Memorator Light (KV-00513-6). For more advanced trigger and filter options and the ability to run user-developed scripts, plus on-device buffering, opt for the Memorator Pro 2xHS v2 (KV-00819-9).
Monitor two CAN channels simultaneously using just one device
Quick and easy plug-and-play installation
Supports both 11-bit (CAN 2.0A) and 29-bit (CAN 2.0B active) identifiers
CAN messages are time-stamped with 100 microseconds resolution
Supports silent mode for analysis tools – listens to the bus without interfering
Fully compatible with applications written for other Kvaser CAN hardware using Kvaser CANlib
One SD slot that accepts SD flash disks, currently up to 64 GB
Two high-speed CAN connections (compliant with ISO 11898-2), up to 1 Mbit/s
Connects to a PC with a standard USB 2.0 connection
Power from CAN bus or from the USB side
Built-in real time (calendar) clock with battery backup
Logger status is indicated by externally visible LEDs
Plastic housing with dimension WLH about 55 x 150 x 23 mm (circa 2 x 6 x 1 inch)
Compatible with J1939, CANopen, NMEA 2000® and DeviceNet
Galvanic isolation
Property
Value
The information herein is subject to change without notice.
Galvanic Isolation
Yes
Bitrate
50-1000 kbit/s
Silent mode
Yes
Database DBC support
Yes
Error frame detection
Yes
Error frame generation
No
Weight
155 g
On board RX & TX buffers
Yes
Maximum message rate, send
6000
Maximum message rate, receive
8000
Sound
No
Silent mode
Yes
Dimensions (WxLxH)
55x150x23 mm
Kvaser DIADEM Driver
This free driver for National Instrument's DIAdem supports all CAN hardware from Kvaser.
Version 1.0.0
Kvaser Drivers for Windows
Windows drivers for all our CAN hardware. Please check release notes for information on which Windows versions are supported. It also contain a driver for the virtual CAN bus.
Version 5.6.0
Kvaser Leaf V2 Firmware
Firmware Kvaser Leaf Light V2
Version 3.2.302
Kvaser CANKing
A free of charge general-purpose CAN bus momnitor. Works with all CAN interfaces from Kvaser. Windows 200 and later recommended.
Version 5.3.889
Kvaser CANlib SDK
Software development kit - everything you need to develop software for the Kvaser CAN and LIN interfaces. Link libraries, header files, sample programs, Microsoft Visual Basic and Borland Delphi components, documentation, and more. Note: you need to download and install the appropriate device drivers separately
Version 5.6.0
Kvaser LabView VI Library for CAN
Library for National Instrument's LabView version for all Kvaser CAN hardware.
Version 6.1.0
Kvaser Linux Driver and SDK
Linux driver and SDK for Kvaser PCIcan/PCIcanx, Kvaser PCIcanII, Kvaser PC104+, Kvaser PCIcanx II, Kvaser USBcan II, Kvaser Memorator*, Kvaser Leaf family, Kvaser Memorator Pro**, Kvaser USBcan Pro and VirtualCAN. For LAPcan and LAPcan II, you should use version 4.2 of the driver. (*) only with USBcanII functionality, (**) only with USBcan Pro functionality
Version 5.3.0
Remove old drivers
Driver removal program. This program will remove the CAN driver (version 3.2 or older) from your computer. This is a version intended for those who have installed CANLIB 3.2 or older. Use it only if you need to remove an old version of the driver from your computer. Contact technical support if you have any questions.
Version 3.9c
The Memorator 2xHS v2 is a compact, dual channel CAN bus interface and standalone data logger that allows users to monitor and collect data from two high speed CAN channels simultaneously. Standalo...