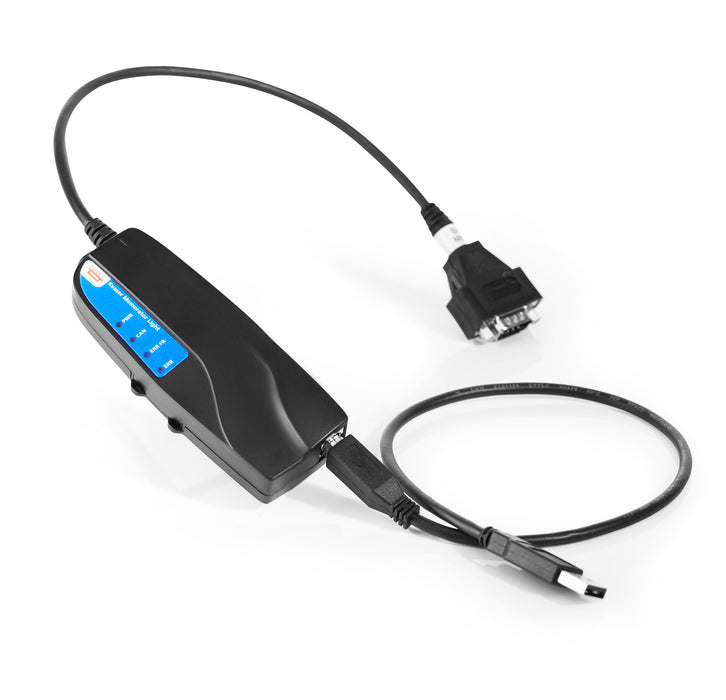 Designed for troubleshooting any CAN-based (controller area network) system, the Kvaser Memorator Light HS v2 is an easy-to-use tool for logging serial data, with no software setup required. With an autobaud function that determines CAN bus bit rate, the Kvaser Memorator Light can be attached to any high-speed CAN bus without configuration. All CAN bus traffic is logged in a circular buffer, overwriting the oldest data when the buffer becomes full. A separate circular buffer keeps track of error frame conditions and the message traffic that occurs near the conditions.
Note: The Kvaser Memorator Light HS v2 does not operate as an interface (i.e. provide real-time access to the CANbus). For a device that functions as both a standalone datalogger and CANbus interface,the Kvaser Memorator 2xHS v2, Kvaser Memorator Pro 2xHS v2, and Kvaser Memorator Pro 5xHS are recommended.
The Kvaser Memorator Config Tool provides easy access to the recorded data when connected to the device via a USB port. The tool supports multiple formats used by popular analysis software. In addition, the extraction software allows the user to clear and reinitialize the device's memory.
Single high-speed CAN channel (compliant with ISO 11898-2).
Supports both 11-bit (CAN 2.0A) and 29-bit (CAN 2.0B active) identifiers.
Supports bit rates from 50 Kbit/sec up to 1 Mbit/sec.
Autobaud function determines CAN bus bit rate.
Always in silent mode - log bus traffic without interfering.
Fixed 1GB internal storage.
Two FIFO buffers; one logs all messages on the bus, the other buffer logs approximately 1000 messages before and after an error frame.
Built-in real time clock (calendar) with battery backup.
LEDs alert the user to device status.
Property
Value
The information herein is subject to change without notice.
Galvanic Isolation
No
Certificates
CE, RoHS
Bitrate
50-1000 kbit/s
Channels
1
Current Consumption
Up to 3W
Connectors
DSUB 9
Silent mode
Yes
Error frame generation
No
Error Counters Reading
No
Interfaces
USB
Weight
150 grams
Temp Range
-40 °C to +85 °C
Timestamp resolution (µs)
2 µs
Maximum message rate, send
20000 mps
Maximum message rate, receive
20000 mps
Sound
No
Dimensions (LxH)
127x22 mm
Material
PC-ABS
Kvaser Database Editor 3
Kvaser Database Editor 3 (candbfd)
Version V3.14.477
Kvaser Memorator Configuration tool
Configuration tool for Kvaser Memorator Pro 5xHS, Kvaser Memorator 2xHS v2, Kvaser Memorator Light HS v2 and Kvaser Eagle
Version V5.25.477
Python module
The Canlib module is a Python wrapper for Kvaser CANlib SDK.
Version V1.17.748
Kvaser CANlib SDK
Software development kit - everything you need to develop software for the Kvaser CAN and LIN interfaces. Libraries, header files, sample programs for e.g. C, C++, C#, Visual Basic and Delphi, documentation, and more. Note: you need to download and install the appropriate device drivers separately.
Version V5.35.477
Kvaser LabView VI Library for CAN
Library for National Instrument's LabView. Version for all Kvaser CAN hardware.
Version V19.3.0
Kvaser DIADEM Driver
This free driver for National Instrument's DIAdem supports all CAN hardware from Kvaser.
Version V4.1.0
Kvaser Drivers for Windows
Windows drivers for all our CAN hardware. Please check release notes for information on which Windows versions are supported. It also contain a driver for the virtual CAN bus.
Version V5.35.477
Kvaser CANKing
A free of charge general-purpose CAN bus momnitor. Works with all CAN interfaces from Kvaser. Windows 200 and later recommended.
Version V6.18.106
Kvaser LabView VI Library for CAN
Library for National Instrument's LabView version for all Kvaser CAN hardware.
Version V19.3.0
Kvaser Linux Driver and SDK
Linux driver and SDK for Kvaser PCIcan/PCIcanx, Kvaser PCIcanII, Kvaser PC104+, Kvaser PCIcanx II, Kvaser USBcan II, Kvaser Memorator*, Kvaser Leaf family, Kvaser Memorator Pro**, Kvaser USBcan Pro and VirtualCAN. For LAPcan and LAPcan II, you should use version 4.2 of the driver. (*) only with USBcanII functionality, (**) only with USBcan Pro functionality
Version V5.35.477
Remove old drivers
Driver removal program. This program will remove the CAN driver (version 3.2 or older) from your computer. This is a version intended for those who have installed CANLIB 3.2 or older. Use it only if you need to remove an old version of the driver from your computer. Contact technical support if you have any questions.
Version 3.9c
Cleanup
Driver removal program. This program will remove the CAN driver (version 3.9 or older) from your computer. This program will not work with driver 4.0 or later. Use it only if you need to remove an old version of the driver from your computer.
Version 3.9c