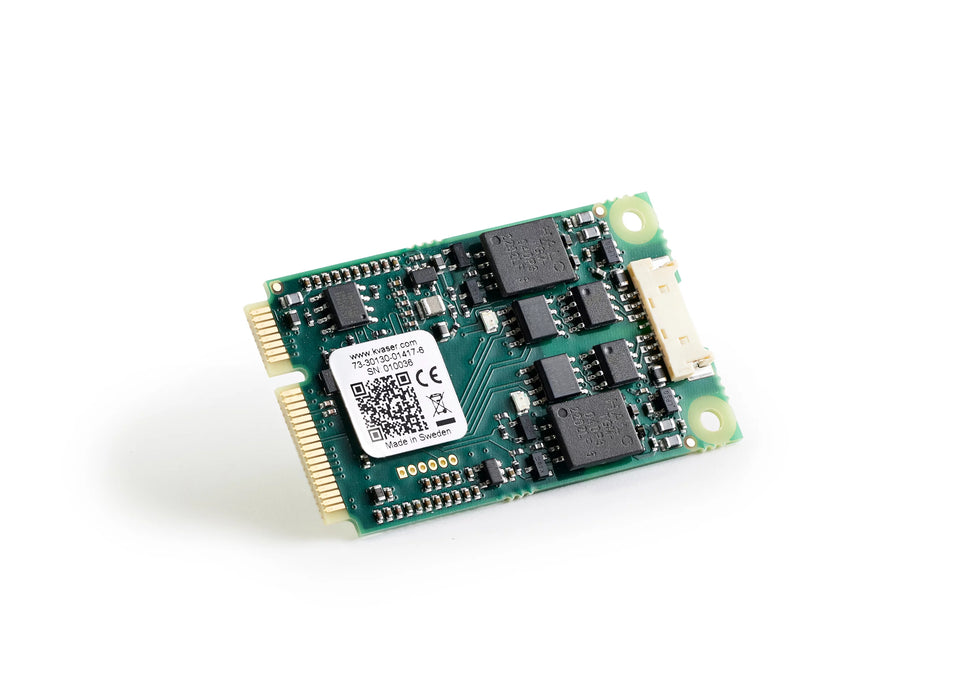 Kvaser Mini PCI Express 2xCAN v3 (2 CH)
Kvaser Mini PCI Express 2xCAN v3 is a small, yet advanced, CAN multi-channel real time CAN interface that handles transmission and reception of standard and extended CAN messages on the bus with a high time stamp precision. The Kvaser Mini PCI Express 2xCAN v3 is compatible with applications that use Kvaser's CANlib.  (Also available in a single-channel version.)
Major features of the Kvaser Mini PCI Express 2xHS v2:
CAN FD support
Fully compliant to the PCIe bus specification 1.2, Type F2 form factor (Full-Mini with bottom-side keep outs).
Supports a bit rate from 50 to 8000 kbit/s and a CAN transfer rate up to 20000 messages/s.
Time stamp accuracy is 1 µs
Low profile 4-pin Molex compatible connector, compliant with mPCIe height restrictions. Includes Molex to DSUB9 cable adapter.
Complies with EN 61000-6-2:2005, specifying EMC immunity for industrial environments.
Operates over the industrial temperature range of -40 to +85°C.
Kvaser's free of charge CANLIB SDK can be used to develop software for the Mini PCI Express HS board.
Support for Linux, in the form of drivers and a dedicated SDK, are available as a separate download.
Property
Value
The information herein is subject to change without notice.
Galvanic Isolation
Yes
Bitrate
20-1000 kbit/s
Silent mode
Yes
Error frame generation
Yes
CAN FD bitrate

up to 8 Mbit/s

Weight
6 grams
Timestamp resolution
1 μs
On board buffer
N/A
Maximum message rate, send
20000
Maximum message rate, receive
20000
Sound
No
Clock synchronization
N/A
Temperature range
-40°C to +85°C
Dimensions (WxLxH)
30x51x5mm
Kvaser Mini PCI Express 2xCAN v3 is a small, yet advanced, CAN multi-channel real time CAN interface that handles transmission and reception of standard and extended CAN messages on the bus with a ...