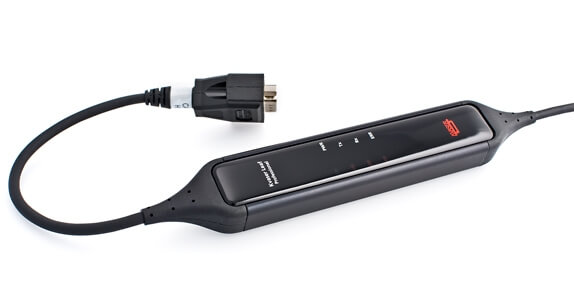 Kvaser Leaf Professional Rugged HS
This product is EOL as of Jan 2023. Please consider the Kvaser U100 or the Kvaser U100P as the recommended replacements.
Kvaser Leaf Professional Rugged (with Galvanic Isolation) is a one channel, very high performance, USB interface for CAN. With a IP67 rated aluminum housing, it offers the possibility to easily connect your PC and CANbus network. Includes Kvaser's patented MagiSync feature for synchronized time-stamping, and Galvanic Isolation for protection against voltage spikes.
IP67 rated lightweight aluminium housing
Automatic and accurate clock synchronization between several Kvaser MagiSync interfaces through Kvaser MagiSync™. The technical solution is unique and patented by Kvaser.
Supports both 11-bit (CAN 2.0A) and 29-bit (CAN 2.0B active) identifiers
Supports silent mode for analyzing tools
Low power consumption
Excellent EMC performance
Polyurethane cabling for extreme environments
Galvanic isolation of the CAN bus driver stage to protect the hardware
100% compatible with applications written for all Kvaser hardware with Kvaser's CANlib
Equipped with a 110 cm (44 in.) long USB cable and a 30 cm (12 in.) long CAN cable
Interfaces the CAN bus with a 9-pin D-SUB connector
Designed for USB 2.0, backward compliant with USB 1.1
Quick and easy Plug-and-Play installation
Property
Value
The information herein is subject to change without notice.
Galvanic Isolation
Yes
Bitrate
5-1000 kbit/s
Silent mode
Yes
Error frame generation
Yes
Error frame detection
Yes
Weight
150 grams
Timestamp resolution
1
On board buffer
Yes
Maximum message rate, send
20000
Maximum message rate, receive
20000
Sound
Yes
Clock synchronization
MagiSync
Dimensions (WxLxH)
30x200x20 mm (1.2x7.9x0.8in.)
Kvaser DIADEM Driver
This free driver for National Instrument's DIAdem supports all CAN hardware from Kvaser.
Version 1.0.0
Kvaser Drivers for Windows
Windows drivers for all our CAN hardware. Please check release notes for information on which Windows versions are supported. It also contain a driver for the virtual CAN bus.
Version 5.6.0
Kvaser Leaf V2 Firmware
Firmware Kvaser Leaf Light V2
Version 3.2.302
Kvaser CANKing
A free of charge general-purpose CAN bus momnitor. Works with all CAN interfaces from Kvaser. Windows 200 and later recommended.
Version 5.3.889
Kvaser CANlib SDK
Software development kit - everything you need to develop software for the Kvaser CAN and LIN interfaces. Link libraries, header files, sample programs, Microsoft Visual Basic and Borland Delphi components, documentation, and more. Note: you need to download and install the appropriate device drivers separately
Version 5.6.0
Kvaser LabView VI Library for CAN
Library for National Instrument's LabView version for all Kvaser CAN hardware.
Version 6.1.0
Kvaser Linux Driver and SDK
Linux driver and SDK for Kvaser PCIcan/PCIcanx, Kvaser PCIcanII, Kvaser PC104+, Kvaser PCIcanx II, Kvaser USBcan II, Kvaser Memorator*, Kvaser Leaf family, Kvaser Memorator Pro**, Kvaser USBcan Pro and VirtualCAN. For LAPcan and LAPcan II, you should use version 4.2 of the driver. (*) only with USBcanII functionality, (**) only with USBcan Pro functionality
Version 5.3.0
Remove old drivers
Driver removal program. This program will remove the CAN driver (version 3.2 or older) from your computer. This is a version intended for those who have installed CANLIB 3.2 or older. Use it only if you need to remove an old version of the driver from your computer. Contact technical support if you have any questions.
Version 3.9c