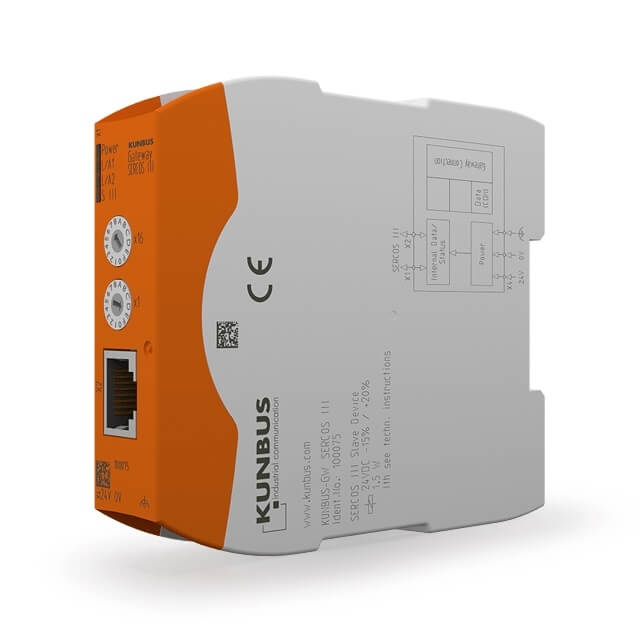 Gateway Module - Sercos III Slave
KU-PR100075
Product is no longer available.
Expansion module for Sercos III networks
When using our RevPi Gate Sercos III gateway, integrating Revolution Pi into a Sercos III network is no problem. Like all Revolution Pi expansion modules, the gateway is connected to the base module RevPi Core via the overhead Pi Bridge connector. Thus, up to two gateway modules can be used per system.
Review the UL Certificate.
Network Configurator (CNC) for the integration of FNL in your network
PROFIBUS configuration tool CONFIGURATOR III with extensive download, analysis and control functions
Programming interface: The TCP/IP socket interface provides transparent exchange of the DP Slaves' process and diagnostic data as well as all DP/DPV1 Master class 1/2 and DP Slave services
No more hardware/driver installation with its typical related problems
Access to the respective fieldbus from any arbitrary network PC
Up-to-date technologies, like internet, e-mail etc. can be used in the process control level
Add-on software: LabVIEW™ Driver for FNL
| | |
| --- | --- |
| Module version | Slave |
| Network connector | 2 x RJ45 |
| max. baud rate | TBA |
| I/O data | TBA |
| Protection class | IP20 |
| Power | 24 V DC (-15/+20%) |
| Current consumption | 100 mA |
| Dimensions | 110.4 x 22.5 x 101.4 mm |
| Weight | approx. 90 g |
| Reverse voltage protection | Yes |
| Operating temperature | 0 °C to 60 °C |
| Storage temperature | -25°C to 70 °C |
| max. relative humidity (at 40 °C) | 93 % (non condensing) |
| Casing material | Polycarbonate |
| Mounting | DIN rail (EN50022) |
User Manual
KUNBUS-GW Sercos III User Manual in PDF Format